United Knights
Bishop's Model United Nations Club Leads Big Conference for All Schools in San Diego
On December 4, students from all around San Diego and neighboring counties came to the Bishop's School's Knights Model United Nations (MUN) conference to discuss current events.
Model United Nations is a club whose members participate in state-wide conferences and cycle meetings, where they keep up with the current events and international issues of today and collaborate to theoretically help solve them. Senior Ashley Sottosanti, a secretariat of MUN, recommended students join the club. "It's a great way to learn about the world and to be able to interact with people who are passionate about learning and trying to find solutions to the world's problems. My favorite part personally is that it keeps me knowledgeable about current events. and how the UN works in general, because it's very confusing," she said.
The MUN club meets every B-day during lunch where secretariats, the group leaders, present an issue that they want to discuss. "[Meetings could be about] a specific event happening in the international community. We cover wars, elections, cryptocurrency, UN actions, and pretty much anything else that we think will be relevant and interesting," Co-Secretariat General Maddie Cayer ('22) explained. After presenting, club members participate in discussions to help solve the issue or alleviate the conflict, similar to what the United Nations does.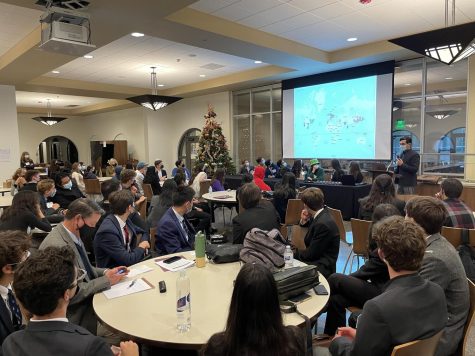 In addition to meetings, one of the club's traditions is hosting a MUN conference (Knights MUN) on the Bishop's campus. Conferences are for anyone participating who wants to discuss the events with students from different schools. Ashley expressed, "We usually have about 4 conferences we go to a year, including Knights MUN. In these, participants are assigned to a UN committee and a country in that committee and are tasked with working with other delegates to solve an issue under the jurisdiction of that committee over the course of a Saturday." This was one of the first conferences since COVID and some students have never attended a conference before. Jonas Pfefferman ('24), a member of MUN, described his experience of the conference. "I definitely enjoy what you do at a conference, who you are going to meet, how you interact with people [like] if you are going to kind of be aggressive and a bit of a jerk to one country then buddy up with another country and just things like that."
Over 100 people from different schools participated this year in the Bishops' student-led event. Ashley said, "As the secretariat, I helped run the competition rather than actually competing, but we had teams from schools all over San Diego and at least one from other parts of Southern California as well." At the conference, there were five committees, which include delegates, representatives of certain countries, from different schools, and a joint crisis committee. Delegates were assigned characters from the Trojan War.
During the Trojan War crisis committee, "[students] act as historical figures for a topic that was considered a crisis and develop their sense of history. This year, there were three main committees for the Greek side of the trojan war, the trojan side for the trojan war, and the staff who were operating in the back room helping [with costumes] and the storyline of the war," by creating more ideas to further the conversation, another member, Dylan Navarrete ('24) said. Adding on, James Stutts ('23), a board member of the MUN, explained how entertaining the event truly was. "There is a lot of fun stuff you can do, like dress up as your characters and you each get your own powers and do things that go outside of the normal review of what happened. You can assassinate people or invade countries."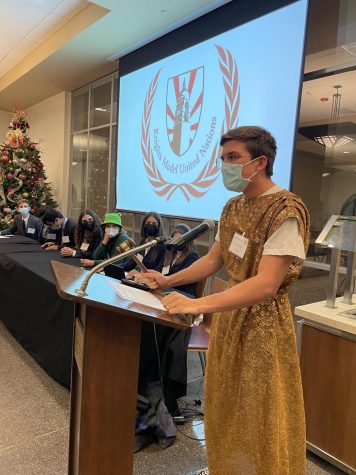 James especially enjoyed the environment of the conference. "I like the whole social aspect to it, where you are meeting new people and you're either becoming allies or enemies with them, and it leads to fun scenarios. People get really into [the conference] sometimes, maybe even a little more than me, but I think it's really fun just interacting with people you've never met before," he said. Ashley explained how they got "a bunch of Greek-themed costumes from the costume department to be more on a theme which I think a lot of people enjoyed."
For MUN member Macy Haro ('23), the club is really fun to be a part of. She likes learning about current events such as Bitcoin, the new currency in El Salvador, during meetings. "I like to try and stay informed. It's really fun to learn about it with other people who also don't know what's happening… It's just fun to talk about random things that are happening everywhere," she explained. Dylan liked the discussion aspect of meetings.  "We can [respectfully discuss things] and also have fun with it and learn about new topics."
"Would you recommend MUN to others?" When asked the question, members of the club exclaimed, "Absolutely!" Ava Bradley ('24), a fellow member of MUN, said, "I like to do MUN as public speaking practice, just learning to be more confident in front of a crowd. To me, it's like speech and debate, but a bit different. You get to be prepared, you get to learn things in the process, it's interesting." Members of MUN, like Ava, had lots of fun at the Knights conference and are "looking forward to doing it again next year," Jonas commented.