Kyle Rittenhouse is Acquitted and Ahmaud Aubrey's killers are Convicted: here is what we know
Kyle Rittenhouse
On Friday November 19, 2021 Kyle Rittenhouse, the shooter of the Kenosha shooting, was found not guilty of all five counts. 
On August 25, 2020, Kyle Rittenhouse, aged 17, entered a protest carrying an AK-15. The protest was a demonstration for justice for a Black man named Jacob Blake who was shot by a white police officer. Rittenhouse used this gun, which he carried illegally, to kill two and injure a third. 
After the videos of him surfaced alongside witness testimonies on social media, Rittenhouse was tried with first-degree intentional homicide, attempted first-degree intentional homicide, first-degree reckless homicide, first-degree recklessly endangering safety, and illegal carrying (which was later dropped). The trial started on November 1. 
Rittenhouse's lawyers argued self-defense, claiming that he was put in danger of being killed or severely bodily damaged. 
They reinforced their point with three central arguments: one, the people he had shot were of threat to him; two, he didn't have the intention of coming to kill; and three the defense emphasized was that Rittenhouse was a scared child.
Rittenhouse was 17 and illegally carrying his gun when he killed the two people and injure a third. The first of the three was Joseph Rosenbaum, who was unarmed but was screaming slurs, profanity, and "I'm not afraid to go to jail!" He then proceeded to chase Rittenhouse. The defense claimed he was "violent" and "not of [a] sound mind," among other things. 
The second man he killed was another unarmed man—Anthony Huber—who tried to grab Rittenhouse's weapon in an attempt to stop him. The defense claimed that Rittenhouse saw this attack (which contained him getting hit in the head by Huber's skateboard) as an attack that thus warranted a killing. 
The final man, and only surviving victim, Gaige Grosskreutz, is a trained EMT paramedic who regularly attends protests to provide assistance in case people are wounded. According to him, he heard the first gunshot and then claimed he "heard people yelling medic" and ran towards the shots. He was the only man of the three that was armed, as he carries a gun regularly. Grosskreutz testified that he pointed his gun at Rittenhouse before Rittenhouse shot him, which was a crucial point for the defense team's claim that Rittenhouse acted in self-defense. Grosskreutz said he knew that he was "going to die." 
Rittenhouse claimed he didn't plan to harm anyone. When asked why he brought the gun, he claimed it was to protect himself. The prosecutors jumped on this, but he told them those same lines, repeating that he brought the gun because he feared for his safety but didn't come to hurt anyone. 
The final piece was Rittenhouse's testimony. When he began to recount the events of the night, he began to sob and, according to The Daily, was "gasping for air". 
After three and a half days of deliberation, the jury found him not guilty on all five accounts. 
Rittenhouse is a free man and will not serve any sort of sentence in prison.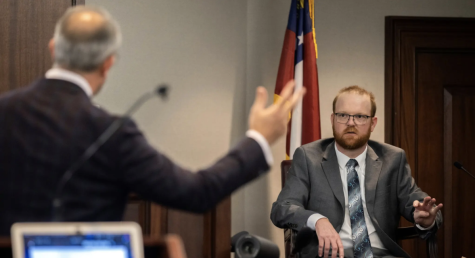 Ahmaud Arbery 
On February 23, 2020, Ahmaud Arbery went for a run around Brunswick, Georgia, and did not return home. Footage shows three men, Greorgy and his son Travis McMichael and their neighbor Willian "Roddie" Bryan, approached Arbery in their car, cornered him, and then shot him. Arbery was unarmed.
After over a year and half, the three men were put on trial. 
Senior District Attorney at Cobb County District Attorney Office and Lead Prosecutor, Lisa Dunikoski took on the trial, making the biggest case of her career. Ms. Dunikoski, an Georgia State Law Alumni, tried this case in a predominantly white area in front of a jury that only had one Black juror.  According to the New York Times, she "stunned some legal observers by largely avoiding race [but instead focusing on] the details of how the three men had chased Ahmaud Arbery through their neighborhood."
Ms. Dunikoski told the jury: "All three of these defendants did everything they did based on assumptions – not on facts, not on evidence."
She closed the case by saying the men had "assumed" Mr Arbery had committed a crime and tried to unlawfully detain him "without legal authority"
According to Associated Press (AP) "Originally, it was said that Arbery had done something, but then it was clear that the men provoked the fatal confrontation and that there was no evidence Arbery committed any crimes in the neighborhood."
After nearly ten hours of deliberation, the jury found the three men guilty on accounts of malice murder, felony murder, aggrevated assualt, false imprisionment, and crimial attempt to commit false imprisonment. 
According to the New York Times, "they must be sentenced to life in prison, and a judge will decide whether they can be considered for parole beginning in 30 years or if they instead must die in prison."