The Man, the Myth, the Legend: Mr. Danny Newsom
Get to know our security director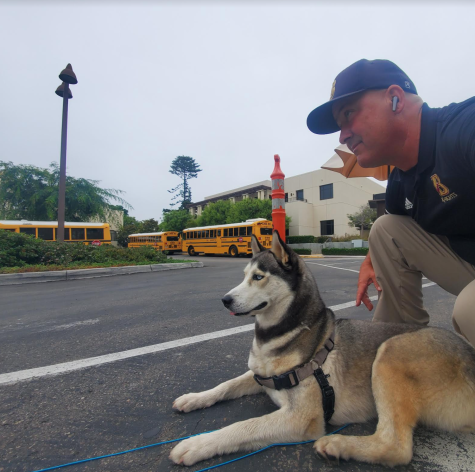 After a stressful morning navigating the traffic-ridden streets of La Jolla on the way to school, your shoulders ease up as you walk through the garage and a familiar face greets you with a smile and a cheery welcome. "Have a great day!" says Director of Security Mr. Danny Newsom. 
Mr. Newsom has worked at Bishop's since June of 2013 and has loved every moment. "Working at Bishop's inspires me every day," he said. "Every student here challenges me to be better at my job, to be a better person and a better example. The chance for me to be able to encourage how our world loves one another and leads one another is so special." Mr. Newsom's impact on students goes beyond his role as a security officer. As an assistant coach for the football team, he is a bottomless source of support and joy.
From new freshman players to seniors who have been on the team in previous years, Mr. Newsom's impact is felt far and wide. "Danny is the heart and soul of our team," explained senior Thomas Muniz. "Almost every practice he brings his own pair of pads and runs drills with us just so we can get better. No matter how loud the fans or the field may be at a game, Danny will make sure that he is the loudest one." Another senior, Rhett LaRocca, added, "Danny Newsom is the most caring coach and he brings energy consistently every day."
Ian Browne ('25) expressed something similar. "Coach Newsom always has great energy," he said. "He's super motivational and is just a nice guy in general." Associate Dean of Students and Head Football Coach Mr. Shane Walton further elaborated on what Mr. Newsom brings to the table. "Danny is one of those guys that you need on any team," he explained. "He believes that anyone around him can do anything they set their mind to. A lot of the guys have confidence because of his mindset and we all love having him around. He's the 'MVP.'"
 "I love coaching and building meaningful things," Newsom said.  "All 50 players on the football team are like my own sons. I look forward to practicing with them every day." Newsom has been coaching football for ten years—seven with Bishop's and three with the San Diego Enforcers. In addition to his 50 "sons," Newsom has two daughters of his own and a three-legged husky named Nola who he rescued from a shelter recently. "My daughters sing like angels," he said. "They are kind-hearted, loving, and brilliant." 
His love for Bishop's students extends beyond the football team. "A water polo player recently took the time to thank me for staying a minute or two to watch his game," Newsom explained. "He mentioned how grateful he was for investing my time to watch the team. It's such a heartfelt memory." Mr. Newsom is also a big believer in the bridging of sports and academic teams. "Last Tuesday, our water polo team was facing one of the top ten teams in the country and I was so proud of the football team for cheering on. I can't wait until we start mobbing Mock Trial or Academic Decathlon!" 
In reflecting on some of the traditions and memories that he has most cherished during his time at Bishop's, "Chub Club" comes to mind. Mr. Newsom founded this tradition in 2015 and has kept it alive ever since. "Danny and a few other players started Chub Club a few years back," elaborated Thomas. "Him and the linemen meet at least once a week at Harry's Diner to sit down and eat breakfast together before school. It's a real bonding experience." A photograph of Chub Club from 2019 with a signed frame hangs on the wall inside of the iconic diner. "Offensive and defensive linemen don't usually get recognized as often as quarterbacks, running backs, or linebackers do," Mr. Newsom explained. "But linemen are essential to the team. Whenever we go to Harry's for Chub Club, everyone wears a shirt that says 'Bishop's Chub Club' across their chest. I love those guys," he exclaimed with appreciation.
Mr. Newsom's genuine demeanor, kindness, and passion are felt in everything he does. "I love everyone who calls Bishop's home," he said. "While I've gotten to know the football guys and some faculty and staff members better than others, know that if you drive into campus and I recognize you, wave to you, smile and welcome you, that you are family. There is nothing I would not be willing to do to protect each and every one of you."