Building Miracles
Sophomore Leia Ryan is this year's new leader of Build A Miracle (BAM), and she has always felt a strong resonance with the club's mission. For BAM, the well-known service club that builds houses in Tijuana, the school year is in full swing.
As Leia summarized, the Build A Miracle club works to raise funds for the construction of houses in Tijuana for impoverished families. Many of these people would otherwise work entire lifetimes before having the funds to build safe accommodations for their family. Now, they are able to redirect their funds towards more immediate concerns, such as the education of their children.
BAM builds the houses in three stages, over three separate full days. On a recent trip, the group toured the BAM community center, which provides free education to Tijuana youth, then drove to the build site and completed the first stage: mixing the concrete and then pouring the pad. "The family writes these letters to us explaining what their conditions were before and how grateful they are," said Leia. "It's always incredibly moving." Leia enjoyed talking to the families, and being able to express what a privilege it is to provide them with a new home. 
"It's definitely made me regret not taking Spanish," Leia laughed, since she currently takes French. However, the language barrier is something BAM has always been able to get past. Leia explained that some Spanish-speaking Bishop's students attend the trips, as well as an official translator from the BAM organization.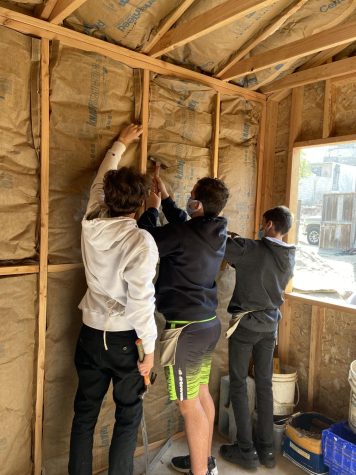 Mexican culture has always been close to Leia's heart, since one of her closest friends is of Latinx heritage. "When the opportunity was presented to me to go on one of these trips, I saw all of these people who had the same traditions as my best friend and her mother (who is like a second mother to me), and I really wanted to help them," she reflected. These families are in dire poverty, and often live in shacks made of recycled metal and boards that you could hardly call houses. "Even if you have less financial means than other people in San Diego, you still have significantly more privilege than these people in Tijuana, since you probably at least have a house with a bathroom," said Leia. 
She encouraged anyone who's interested to start attending the meetings. Victor Joulin-Batejat ('24), the Event Manager, agreed, explaining that he was first attracted to BAM because of the true impact that you can see it has. "I really wanted to become more involved with the organization," he said.
Leia feels a deep sense of purpose in regards to doing something that's truly changing people's lives and the lives of their future generations. "I'm just in awe that we're high school students who can use whatever privilege we have to change the lives of these people," she said. "It's incomprehensible. I don't know how something could give you a deeper sense of purpose than that."