One Season, Three Mindsets
How are high school, college, and professional athletes approaching a new year of competition
Sprinting into battle, shoving opposition to the turf, and leaping to grab the leather ball spiraling towards you, then…BAM! The full force of a 200 pound linebacker tackles you to the ground, where you lay numb for a few moments before getting back up. Still gasping for air, you feel the sweat drip down your face and let out a slight smile: fall sports are back. 
Fall sports have begun for the 57% of high school athletes that play according to the Centers for Disease Control and Prevention (CDC), not only for Bishop's, but for high school, college, and professional alike. All levels of athletics bring different intensities and pressures. But do the mindsets stay the same throughout, or do the different variables change them? 
Bishop's Sophomore and elite golfer Lucy Yuan, former Bishop's quarterback and Notre Dame athlete Tyler Buchner ('20), and former Bishop's and NFL athlete Shane Walton ('98) all explained their experiences with pressure and mindsets to help provide a clear answer to this question.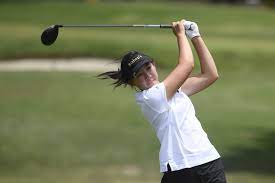 Lucy Yuan, who is nationally ranked #21 in the girls under-18 division for golf, faces lots of pressure. Although sophomore and junior year in high school are major recruiting years for college professional athletes,Lucy expressed a different outlook."I'm not worried about recruitment—more the steps I have to take academically to get to college," she said. Lucy is a believer in balance, and finding a middle ground between the academic and the extracurricular. 
She understands that to be a successful student and golfer being focused and persevering is a key attribute. "Time management is very important," Lucy explained, so of course "staying focused" and "trying to the best of your ability is important."  Another part of her mindset is being intentional with practice. Lucy explained, "when I was younger, I had more time on my hands; now I have to be more intentional when I practice." 
Bishop's students spend at least 3 hours of homework a night because of the 45 minute per subject homework rule. That statistic and Lucy's statement can highlight the importance of intentional practice; a mindset all high school athletes have because of the diminishing free time. 
Lucy is currently ranked top nationally, and with that comes pressure to perform. She said, "There is a lot of pressure holding your ranking—All it takes is one really good or really bad tournament to affect [it]." Lucy must stay focused in practice in order to sustain her ranking, a common theme between successful athletes. 
Former Bishop's Knight star and Notre Dame quarterback Tyler Buchner started his freshman season this fall, kicking off his college football debut with a touchdown pass versus Toledo. This success brings pressures and challenges. Tyler believes that "There are two different types of pressure: external and internal." He explained that "External pressure is not a good thing, because you care what people think about you" and "If you're internally motivated it's for yourself."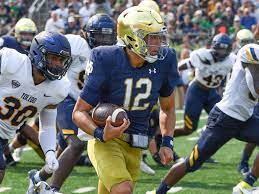 Tyler thinks that "in college, there's a lot of external pressure and motivation; the media's on you, more students [are] talking to you." This can be true for anyone—more attention can bring more pressure to you and affect your playing, but it's something he learned to shield. Buchner's mindset in this demanding college sport is to"work every day to compete against the guy next to you…it's a business in college; they play the better player, so be the better player." 
Buchner has already put up impressive stats since week two and is enjoying the new season. And though Buchner appreciates the competition, he explains that "the fall season is more mentally challenging, more exhausting…the offseason is more physically challenging because you're building your body for the regular season." In most sports, football being included, there is a season and off-season. In the off-season, one works physically hard to build stamina and muscle for the season like Buchner explained. 
Buchner's mindset to fully utilize the season and off-season is to always "Keep the work ethic the same." He added that "the off-season is when you improve yourself, make yourself valuable…during the season you help the team." Buchner, as any college athlete at his level, understands that success takes year around focus and hard work. 
Finally, in terms of the future, Tyler explained, "As a freshman, I'm getting used to everything, like learning the playbook." He said he hopes "I can get to a point where I'm not worried about the plays or what the coaches think about me, I can have that edge." That edge indeed is what brought him to his successful skill today, and will continue to drive him towards that next step towards greatness. 
Coach and Associate Dean of Students Shane Walton has many past experiences with pressure and mindsets, playing for Bishop's, Notre Dame, and multiple NFL teams as a safety. Walton talked about the pressure to perform playing in the NFL. He said, "You're not on scholarship anymore" so you must perform. "In the NFL they can cut you at any moment." 
As a professional athlete, it's your job to be good, Walton explained. "There's pressure every day; I remember the coaches saying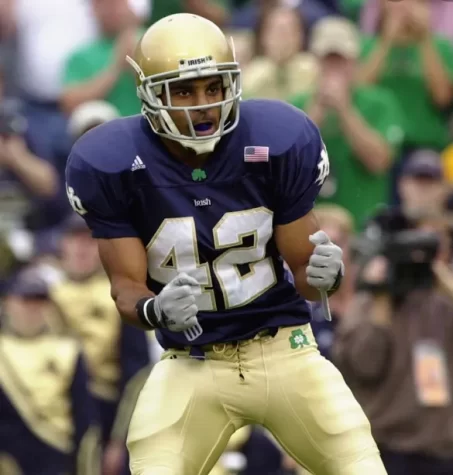 'we're always trying to replace you because that means we got better'—that's pressure." At the professional level, the mindset is different because it's a job. Walton says the mindset is simple: "you come to work, you are focused, attentive, and do what you are told." 
At the professional level, the vast pressure faced is simply combated with focus and listening. Another important part of Walton's mindset was "turning my body off so that I stopped listening to my body; it's why I ended up getting hurt." Walton's back injury, which led to the end of his NFL career in his second year, is common among much of the NFL. 
According to Pro Football Logic, 38% of NFL players miss at least one game because of an injury that forced them to leave the game. This stat displays that over 600 players get injured in a single season, highlighting the danger of the professional mindset. Professionals push themselves to their limits physically, because of the common mindset to stay focused and work hard. Walton explained that "[In the] NFL, you're talking about being the top 1600 people in the world at this one sport. You better come prepared, you better be focused, that's the mindset."
Three athletes, all brought up by the same school, with the same ethics, and the same passion. What separates their mindsets? As Tyler explained, it's really external pressure, the level of skill, intensity, and coaches to push them has changed as they've gotten older. 
In high school, it's about being more focused and intentional with practice, because of the less time you have. In college it's about competing to be better than all the talent around you, coming in ready to work hard. At a professional level, it's about coming prepared, listening, and working hard, be driven, because it's your job too, and it's how you become the best. The overlap at all three levels, is the focus they all bring to every practice to get better. After all, as Tyler Buchner believes, "Your work ethic and focus has to always stay the same."