Checkmate: On The Queen's Gambit's Rise to Popularity and Universal Appeal
A New York Times best selling book. A TV show ranked number one in 63 countries. Top ten in 92 countries. Sixty-two million viewers in the first 28 days.
The Queen's Gambit was released on Netflix on October 23, 2020, and viewing rates skyrocketed to make it Netflix's most popular scripted limited series ever. The total of 62 million households who watched the TV show in its first month on the streaming service fell just short of the uber-popular, unscripted, documentary-style show Tiger King. The seven-episode miniseries—based on Walter Tevis' 1983 novel of the same name—was an unlikely star: few viewers understand the complexities of chess and tournaments tend to consist of significantly long periods of silent staring. Many watchers wondered: what makes The Queen's Gambit so enjoyable?
Each episode is named after a different aspect of chess, and in the first episode, "Openings," a different, younger actor—Isla Johnston—portrayed lead character Beth Harmon in a depiction of her childhood struggles and her introduction to chess. It has a much more storybook, isolated feel, as Beth loses her mother to a car accident and goes to live in an orphanage known as the Methuen Home. It is the 1950s in Lexington, Kentucky, and the orphanage has a mysterious and twisted underside; they dispense mandatory tranquilizers to the girls each day, which would catapult Beth's struggles with addiction. 
In the dingy basement, she finds an escape in the game of chess after the custodian, Mr. Shaibel teaches her to play. As she lies in bed, the tranquilizers enable her to visualize a chessboard and mentally play out the game, later leading to a dependence on the pills. Years pass, and Anya Taylor-Joy assumes the role of Beth. She is adopted out of the orphanage and begins to win chess tournaments, rising into the international spotlight of the 60s.
She also meets chess player Benny Watts, portrayed by Thomas Brodie-Sangster, known best by teens as Newt in the Maze Runner movies. Neither Taylor Joy nor Brodie-Sangster portrays their character as particularly outwardly emotional. "They're both oddballs and they both stand out," Brode-Sangster noted in a Review Nation interview. Both, however, find personality in their intelligence and slight frigidity and haphazard internal emotions. "She [Beth] can't reach out to [the people around her] because she's not comfortable in herself," explained Taylor-Joy in an interview with The Guardian. 
Harmon's rise to prominence in The Queen's Gambit has led to an 87% increase in the sale of chess sets and a 603% rise in chess books. "The show inspired me to start learning the game and taking lessons," Bishop's Senior Whitney Hejmanowski explained. There has also been increased dialogue about and attention drawn to the women in chess. According to the New York Times, only one woman—Judit Polgar—has ever been ranked in the world's top ten players, and men so frequently beat women that they usually play separate tournaments. In nearly all of the tournaments throughout the TV show, Beth is the only woman. Rather than a tomboy fashion sense, she wears consistently feminine outfits that blend 1960s tradition with a modern style. "They aren't mutually exclusive," Taylor Joy noted about Beth's genius and love for feminine fashion in a Mashable interview. "You're supposed to want whatever it is that you want and be able to go after it regardless of your gender." 
The show takes creative liberties in that players often speak during chess matches, and the games move relatively quickly. But more than that, many reviewers believe the story is not really one of chess; the New York Times frames it as a "coming-of-age story about a woman succeeding in a male-dominated world, and a restrained spin on an addiction saga, as Beth [Harmon] rises in the chess hierarchy on a steady diet of alcohol and downers." 
Taylor-Joy agrees that chess can be a metaphor for any person's, especially a woman's, internal struggle. "It is, of course, about a woman who is brilliant at chess and that rises to the top of a male-dominated field, but…pretty much every field is male-dominated, so it's more about a really brilliant person who struggles with herself and overcomes that internal struggle."
About the Writer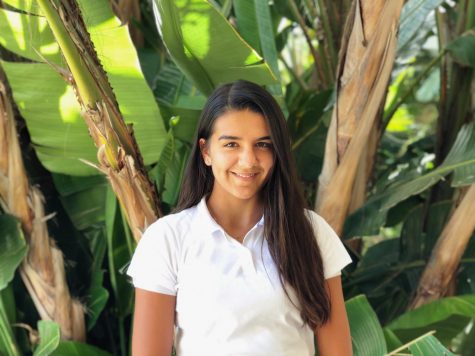 Clare Malhotra, Copy Editor
Clare Malhotra is a junior, and this is her second year on The Tower. She joined the Bishop's School as a tiny seventh grader but has shot up to the...