One Imposter Remains: On Among Us rising to popularity and connecting teens throughout the COVID-19 pandemic
Over 100 million downloads. Four billion views on YouTube. Twenty-four billion TikTok views. 
Among Us surged into popularity throughout the last couple of months, entering mainstream media and becoming a house-hold name. Popular YouTubers such as PewDiePie, James Charles, Ninja, and Mr. Beast have made videos about the game. House Representatives Alexandria Ocasio-Cortez (AOC) and Ilhan Omar even played an online Among Us stream to encourage people to vote. The game has reached a level of popularity rivaling that of Pokémon Go back in 2016. And even though Among Us just recently became popular, it was released in June of 2018 to a moderate response. So how did the game become popular, and why have so many people, including Bishop's students, found enjoyment in it throughout the COVID-19 pandemic?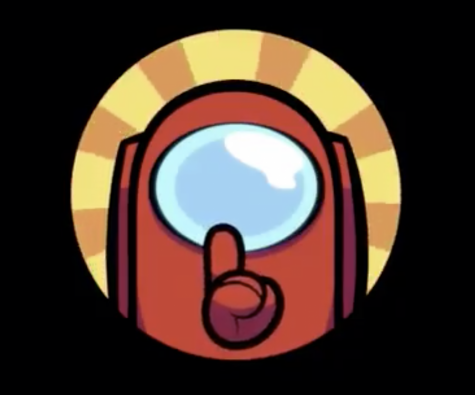 Among Us, a multiplayer game by InnerSloth, was relatively popular after its original release, hitting a million downloads in November of 2019. In the mafia-style game set on a spaceship, sky headquarters, or planet base, each player is assigned a role: crewmate or imposter. Crewmates complete a series of tasks to repair the ship while voting suspicious users out. Imposters sneak through vents, sabotage the ship, and attempt to kill the crewmates. 
In July of 2020, popular Twitch streamer Chance Morris (2.9 million followers), also known as Sodapoppin, streamed the game; in September, the game's popularity soared. Previously, the creators had been in the process of creating a sequel, Among Us 2, but they delayed work on it after seeing the popularity of the original. 
On Tuesday, October 20, AOC streamed a three-hour session of the game on Twitch. At its peak, 435,000 people were viewing the stream live, making it the third most popular individual Twitch stream of all time. She obtained almost 300,000 followers in her first day on the streaming platform, surging past Senator Bernie Sanders and President Donald Trump, who already had accounts. While she continued to remind people to vote and had British streamers explain their benefits of the UK public health system, the majority of the stream focused on playing Among Us. Nonetheless, Politico writer Zach Montellaro noted on Twitter "totally non-sarcastically" that "AOC's stream with a lot of super prominent streamers is probably going to be the single largest event to reach young voters."
Along with millions of teens across the United States and the world, Bishop's students have joined in the game. The game became popular primarily the way other trends do: social media. "I started playing Among Us after constantly seeing it on my TikTok 'For You' page," explained Saavi Bannerjee ('22). Tanvi Ghosh ('22) said that her friends asked her to play, and agreed about its social media reach: "I saw it a lot on Instagram," she explained. "It helps me destress."
Among Us is more social than other games like Fortnite, for instance. It works more like a traditional in-person game like Monopoly or mafia because of the reliance on discussion, which takes place in an in-app chat. While users can play Among Us with a group of strangers online, they can also organize a private game with friends. The COVID-19 pandemic and quarantine have seen a surge in online gaming because of the way people can connect over online communication sites such as Zoom. 
There has also been a rise in Discord servers, including one with over 98,000 people. People use it to discuss, play, and connect through the game, and at any one moment, there are usually more than 30 Among Us games taking place through voice chats on the server. The 13-year-old manager of the server, Benson, explained that all members of the server are between ages 13 and 20. "If [someone's] teacher doesn't show up to their online class, they play, it's a way to pass the time when you don't have anything else to do," he explained. "Since we can't really congregate in a public area like the park, Among Us allows us to be online social distancing."
Bishop's Chinese teacher Ms. Esther Hsiao, whose advisory has played several games throughout the year, explained, "I think it has become popular because humans are social animals, and we like to make connections with others, instead of feeling isolated. A game like Among Us allows us to do so safely and virtually during the pandemic." The physical detachment has conversely developed a new era of global communication as nearly everyone has downloaded online programs and learned how to use them. In addition to gaming, the pandemic has seen a rise in online conferences, concerts, museum or national park tours, doctors' appointments, fitness classes, and simply international unity and connection.