How Coronavirus Exacerbates Inequality in Healthcare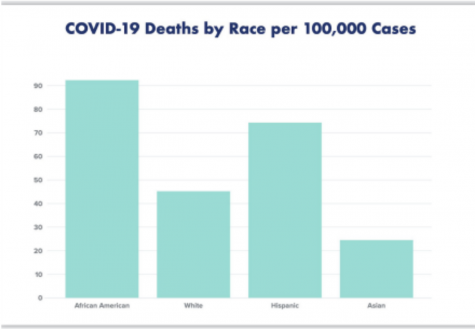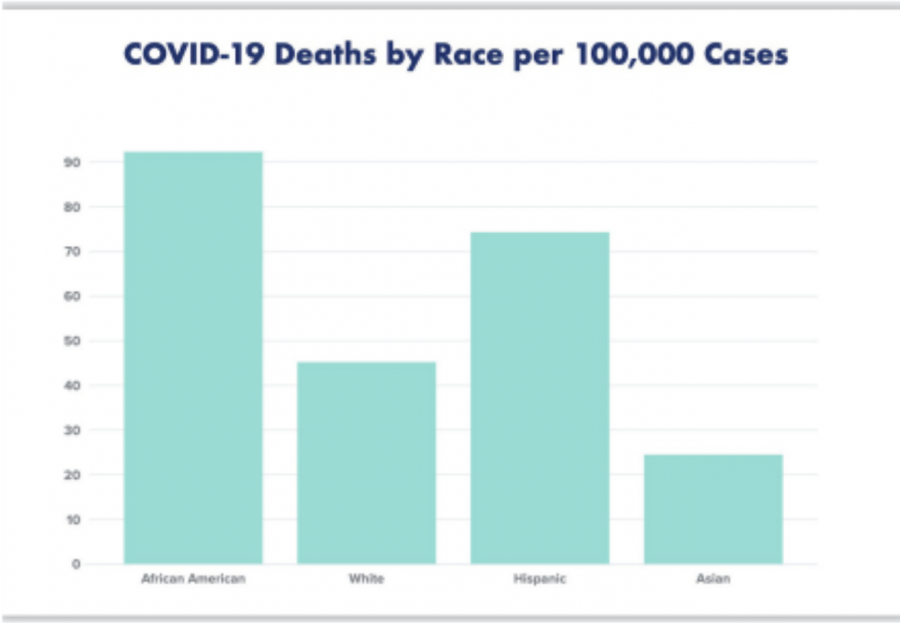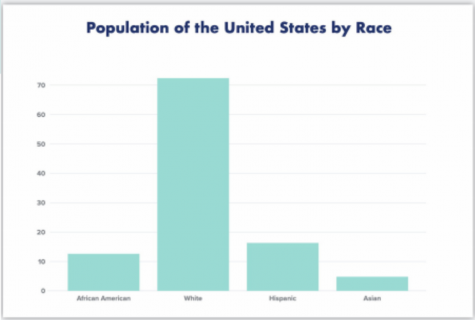 According to the Centers for Disease Prevention and Control (CDC), African Americans make up 26 percent of COVID-19 cases. However, they only comprise 13 percent of the population. So, why? What social, economic and biological differences are responsible for this disparity?
First of all, African Americans are more likely to suffer from cardiovascular diseases, lung diseases, and obesity due to a variety of external factors according to The Atlantic and the CDC. All of these diseases make it much more difficult to survive the coronavirus according to the CDC. 
On the surface, other factors like obesity or diabetes may seem easier to control, but that isn't necessarily the case. According to the United States Census, on average, African American households make just over $40,000 per year compared to over $68,000 for white households, and thus, have less money to spend on healthy food which is more expensive. Furthermore, according to The Guardian, a food desert is an area where there is no access to quality, affordable fresh foods, and African Americans are more likely to live in one. The Southern Poverty Law Center found only 8 percent of African Americans live in a census tract with a supermarket, compared to 31 percent of whites. A lack of access to affordable, fresh food makes it much more difficult to stay healthy.
Not only do African Americans have higher rates of these diseases, they are less likely to be adequately treated for them. According to the New York Times, racial biases in medicine mean that African Americans can be treated differently than white patients by doctors. A study published by the  National Center for Biotechnology Information proves that physicians in general are more likely to underestimate the pain of black patients relative to nonblack patients, with 47 percent of physicians doing the former as opposed to only 33.5 percent of physicians doing the latter. 
The Journal of the American Board of Family Medicine published a survey conducted among over 500 physicians to test implicit bias. The physicians were asked about the cooperativeness of a patient and whether or not they would recommend a certain treatment for patients. The cases they were given were identical except for race. The study noted that "physicians displayed a strong implicit preference for whites over blacks." While recommendation rates were similar between whites and blacks, whites were more likely to be seen as medically cooperative – a factor that could potentially affect treatment received. 
  The demographics of who is able to stay home during this pandemic also accounts for the disparity in infection rates. According to the Economic Policy Institute, 29.9 percent of white workers are able to work from home. However, only 19.7 percent of African American workers are able to do the same which exposes a greater percentage of African Americans to COVID-19. 
Furthermore, African Americans rely more heavily on public transportation. According to the Pew Research Center, 23 percent of African Americans use public transportation on a daily or weekly basis as opposed to only 7 percent of whites. Public transportation, or being in an enclosed space with dozens of potentially infected passengers for a long period of time with limited capability to social distance dramatically increases the risk of contracting COVID-19. 
The inequalities in the medical system become relevant once again when African Americans seek treatment for the coronavirus. These inequalities contribute towards a higher death rate for African Americans. According to data released by the New York City Department of Health, the age adjusted mortality rate per 100,000 cases is 22.8 for Hispanics and 19.8 for African Americans. However, it is only 10.2 for white people. 
Testing and early diagnosis are crucial factors that greatly increase one's chances of surviving COVID-19, but African Americans have had less access to testing. Data by biotech firm Rubix Life Sciences shows that African Americans with coronavirus symptoms like cough and fever were less likely to be given tests. According to the New York Times, 50-year-old Chicagan Reginald Reif's previous negative experiences with the medical care system had dissuaded him from visiting a doctor until his temperature spiked and his breathing became too labored. When he went into an urban care clinic in Chicago, he was advised to quarantine, but he was turned around without receiving a test. He died a week later in his mother's basement. 
Furthermore, centers with access to tests were also more likely to be located in predominantly white areas according to an article by Kaiser Health News. In Nashville, Tennessee, most of the testing was managed by Vanderbilt University Medical Center and distributed to historically white areas. In contrast, Meharry Medical College, a historically black institution had its drive-thru testing center sit empty for weeks because they could not acquire scarce testing supplies. The same thing happened to two other testing centers in black neighborhoods. 
The medical side of the COVID-19 pandemic clearly has its flaws when it comes to addressing the needs of African American patients. Additionally, society's response to African Americans during this time of social distancing has been problematic. For example, according to the New York Times, New York City arrested forty people for not following social-distancing guidelines. However, thirty-five of those people were African American, four were Hispanic and a grand total of one was white. New York Mayor Bill de Blasio condemned this practice on Twitter, tweeting that "the disparity in the numbers does NOT reflect our values. We HAVE TO do better and we WILL." 
Furthermore, some of these arrests have been unnecessarily violent. Officer Francisco Garcia was involved in a confrontation in front of a Lower East Side deli. Garcia confronted an African American bystander, knocked him to the ground and sat on him as another officer handcuffed the bystander. The response to white people not social distancing however, could not be more different. According to Business Insider, the NYPD posted photos on Twitter of one of its officers handing out masks to a white woman.
However, to follow social-distancing guidelines, many African Americans are putting their safety at risk. According to an article by TIME, the CDC has recommended that everyone wear masks when they leave the home, and if they do not have access to surgical masks, to use fabric like old T-shirts or bandanas to create a homemade equivalent. In combination with existing racial biases, the image of a bandana over half of a black man's face conjures up fears of said man being a criminal or a gang member in many people's minds. 24-year old Quinten Hoskins told TIME "The image of a black man, especially a tall, dark-skinned black man with a bandana on his face, I just feel like the racial biases that will pop into people's heads will be something that could very well be the end of my life. "
While it initially doesn't seem like a large concern, the recently unveiled footage of the murder of Ahmaud Arbrey shows just how life-threatening these racial biases can be. According to CNN, Arbrey was murdered while jogging in Brunswick, Georgia, by Gregory McMichael and his son, Travis. The father-and-son duo chased after Arbrey in a pickup truck and shot him because they believed he was responsible for a string of robberies. He wasn't. Arbrey's father compared the murder to a modern-day lynching. This was shortly followed by video footage exposing the murder of George Floyd in Minnesota. According to CBS News, four police officers said that they were responding to a call for a forgery in progress. Floyd was ordered to step out of his car. Although he resisted arrest, the officers handcuffed him and walked him to the police car, noting that Floyd appeared to be suffering from medical distress. When Floyd fell to the ground, one officer put his knee on his neck and suffocated him to death. 
Cognizant of these problems, many African Ameicans have had to weigh the consequences of not wearing a mask and potentially catching COVID-19 or wearing a mask and being harassed by the police like the two African American men in this video. Halo Dale and his companion were wearing surgical masks in an Illinois Walmart. They were followed through the store by a police officer with his hand on his weapon, and told that a city ordinance forbade wearing masks, even though no such city ordinance existed. Many African Americans are scared of the societal response to wearing a mask, and some have elected not to, which could also account to the gap in infection rates. 
Finally, as we turn our thoughts to the idea of reopening the country, Reuben C. Warren, the director of Tuskegee University's National Center for Bioethics in Research and Health Care told Vox why that decision would disproportionately affect African American communities. "My initial reaction was: more of the same. Many people will say black people have a disproportionate burden of disease, like heart disease and diabetes. All that's true, but the current challenge is black and Hispanic folks continue to be at risk. They are the workers. They are the ones who are not getting PPE. They are the ones who can't afford to stay home."
Let's face it. African Americans are usually underrepresented in the media, in politics, and in so many aspects of life, African American communities are not given adequate representation. However, for a myriad of reasons outside of their control, African Americans are drastically overrepresented in COVID-19 infection, hospitalization and death rates. 
COVID-19 has spiked racism against Asian Americans. For more on that, you can read Crystal's article here.