On the Wall: Ms. Emily Grenader's Art Installation
From murals to sculptures in local parks, it's undeniable that public art is a staple feature of San Diego. This art is made all the more enjoyable when it's work created by Bishop's own. Fortunately, we have the chance to see just that art in the Port of San Diego.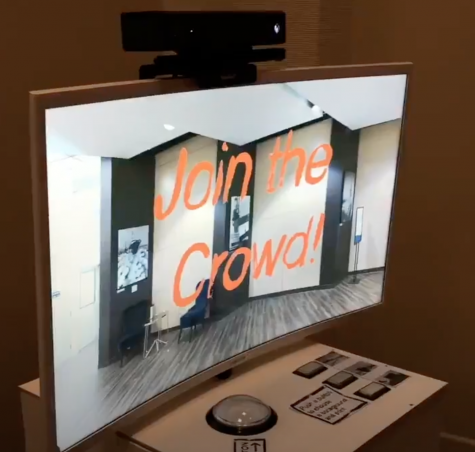 "A couple years ago, I was approached by someone from the Port of San Diego," said artist and visual arts teacher Ms. Emily Grenader. "Every year they do a lot of public art around the whole city and once a year they do an art project that is for their employees."
The Port of San Diego has over 550 employees. Using technology, Ms. Grenader, with her collaborators, created the art installation that gave every employee a voice.
"You would come into the lobby and record a video. The Port Commissioner would be next to the maintenance worker, and they could be interacting together on this video," Ms. Grenader explained. All of the videos, taken with depth sensor cameras to create new backgrounds, were projected up together for about two weeks. Next, Ms. Grenader created a drawing from the combined video that was turned into a mural made of vinyl adhesive and attached to the side of the building.
Towards the beginning of the project, Ms. Grenader brought then-rising senior Harsha Kenchareddy ('19) on board. Every summer, the Service Learning department shares a variety of volunteer resources for students; Director of Service Learning Mrs. Jackie Gomez encouraged Ms. Grenader to share her project as a service opportunity. "I was scrolling through the community service opportunities that Mrs. Gomez sends and the project at the Port piqued my interest. I have always been interested in computer science, specifically AI and computer vision, and this project allowed me to both help the community and learn about computer science," said Harsha. 
Harsha worked on coding and the digital portion of the piece, especially Instagram compatibility. Ms. Grenader said, "I had never had him as a student. It was really interesting — what he said was that he had been doing computer science for a long time and had never really thought about how computer science and art could go together. I thought that was really nice."
Harsha elaborated: "I think that the best part of the project was seeing how the code I wrote could be applied on a larger scale to something that people would actually see and use. It was more rewarding than completing a school project as I actually got to see a beneficial end result."
Ms. Grenader has worked on similar pieces in the past, all part of an ongoing project called VideoMob in with her collaborators Danilo Rodrigues, Jimmy Nguyen, and Nadir Weibel. VideoMob's website defines it as, "A new take on the photo booth. It invites users to record a video portrait to be instantly combined into a dynamic crowd. It can be used to document guests at a party, going beyond still photographic portraits by allowing users to dance, wave, and even leave a message."
The idea of a digital crowd painting came to Ms. Grenader when she was in graduate school at the University of California, San Diego. She said, "I thought it would be really interesting to make a crowd that was created of people who visited the artwork and the art gallery to track everyone who had been there before."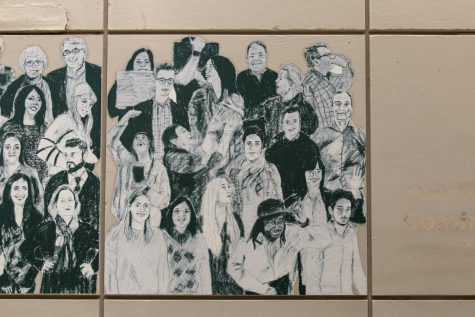 One of Ms. Grenader's first large-scale projects of this type was a one-night opening at the San Diego Art Fair in 2014, projected on the Activities Building of Balboa Park. Fair attendees could record their own videos and messages to be featured on the building's side. "The people who were inside at the Art Fair were also kind of outside with this huge projection," Ms. Grenader said.
Since completing her project at the Port, Ms. Grenader created a similar piece at UCSD for a diversity conference in the computer science department. This installation featured a small twist, Ms. Grenader shared: "We incorporated audio so people could record some thoughts about what they've been learning at the conference."
The VideoMob website said, "Hopefully this will establish a stronger connection among strangers, enabling an actual relationship to form out of the virtual one."