Dr. Marisa Zens' Visit
Suicide Prevention, Information and Awareness Presentation for Parents
Disclaimer: This article discusses sensitive topics such as suicide.
Parents and administrators gathered in the Manchester Board Room the morning of February 26 to learn about suicide prevention. Dr. Marisa Zens, a clinical psychologist, presented her talk, "Suicide Risk in Youth: Parent Training."
Dr. Zens also visited campus in December to give a similar presentation to faculty. She received her Doctor of Psychology degree in Clinical Psychology from Alliant International University in 2011. She worked as a counselor and psychologist at San Diego State University. Currently, she is the Clinical Supervisor and Center Mental Health Consultant at San Diego Job Corps, as well as a psychotherapist in private practice. 
Acknowledging the sensitivity of the subject, Dr. Zens began: "As a therapist, we love to give homework. My homework for you today is to take care of yourself after this." She also encouraged parents to step out of the room if they felt overwhelmed or needed a break from the heavy topic.
First, Dr. Zens shared data about suicide amongst teens in the United States, whose suicide rate is steadily increasing, though California's suicide rate is lower than most other states'. She cited a 30% increase in the national suicide rate between 2006 and 2016. "It is the second leading cause of death for people ages 12 to 24, the first being accidents and the third being homicide," she said.
Broken down by sex, males are more likely to die by suicide than females; males, she said, account for 81 percent of deaths by suicide while females make up 19 percent. That being said, statistics show females attempt to commit suicide three times as often. "There are more numbers of depression in women than men; men who are depressed and suicidal are more likely to use lethal means," said Dr. Zens. While females are more likely to commit suicide, it is more likely for males' attempts to be fatal.
Specifically for teens, four out of five who attempt suicide gave apparent warning signs. Every day, there are an average of over 3000 attempts by young people grades nine through twelve, according to Dr. Zens. If not already clear, this data further demonstrates the importance of learning about the warning signs for individuals considering suicide, and how community members can intervene.
One point Dr. Zens sought to make clear was the distinction between risk factors and warning signs. Risk factors are things that can contribute to someone having suicidal thoughts; warning signs are expressions and behaviors that show someone could be considering suicide.
Risk factors that Dr. Zens identified include depression and mental health issues, drug and alcohol abuse, adverse childhood and life experiences, family history of suicide, and barriers to accessing mental health care (due to lack of means and/or stigma).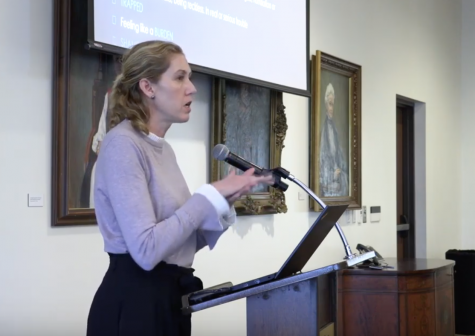 A particular risk factor Dr. Zens noticed was students identifying as LGBTQ. She said, "81 percent of LGBTQ high school students have experienced harassment at school because of their sexual orientation; 63 percent have felt unsafe; 60 percent have never reported the incident of harassment to school personnel." Experiences such as these create an environment in which students feel unsafe or insecure being authentically themselves.
Dr. Zens also shared the story of a close friend she lost to suicide. Her friend, Jason, was gay and faced mistreatment for his identity. In telling this story, she wanted to demonstrate that while some people have a preconceived notion that mental illnesses like depression are always what lead to suicide, her aforementioned list of risk factors all play a role in the wellbeing and thoughts of an individual. "Suicide does not necessarily have to be associated with mental health," she said. "It's, in his case, associated with shame and rejection by family."
After discussing risk factors, Dr. Zens talked about warning signs that parents, plus friends and adults in general, can look for in young adults. Abrupt changes in mood, withdrawal from social life and family, declining grades, loss of interest in activities, and irritability can all be signs that a teen is seriously struggling.
In particular, Dr. Zens noted a common phenomena for teens called psychic equivalence. The mind of an adolescent, she explained, can make the internal understanding of what is real seem to be what is real to other people too. For example, she said, "Today I look this way and it is noticeable to me, so everyone else must see it too." This thinking contributes to insecurity. 
To the adults present, she discussed how it's not always understandable why kids think that way—oftentimes adults can forget what it's like to think as a teen. "We don't understand why they're so certain," she said about psychic equivalence. Because the prefrontal cortex doesn't finish developing until about age 24, such rationalizing processes haven't necessarily been established fully.
In terms of prevention, Dr. Zens emphasized the importance of building relationships with teens through conversation. Being a listener and empathizing with an adolescent, whether your child or your student, shows them that they are not alone—especially crucial given that loneliness is one of the most commonly reported feelings among those considering suicide, according to Dr. Zens.
Dr. Zens also highlighted being direct in these conversations and not being afraid to ask an individual outright if they are having suicidal thoughts. She noted that while many people might fear losing trust with someone if they ask so directly, that fear is actually unfounded because in most situations—including many she has experienced in her work—, being direct actually shows the individual that the adult they're talking to is invested in the conversation and feels comfortable asking. In her words, by asking directly "you have everything to gain and nothing to lose."
With all of this information in mind, adults and students alike can help each other out to make Bishop's a more supportive and safe environment. Director of Counseling Mrs. Megan Broderick ('98) is available for all who need help or want to talk. In addition, Mrs. Broderick facilitates Peer Support, a student group dedicated to helping others and creating a kind, inclusive culture on campus and online. And of course, all adults in the Bishop's community are here for students and ready to support.
Dr. Zens' full talk is available here.
---
If you are experiencing suicidal thoughts, visit your primary care provider, local emergency care center, or contact:
911 for emergencies
 The National Suicide Prevention Hotline, 1-800-273-8255
This Hotline provides 24/7, free and confidential support for people in distress, prevention and crisis resources for you or your loved ones, and best practices for professionals.
Crisis Text Line, Text TALK to 741-741
Text with a trained crisis counselor from the Crisis Text Line for free, 24/7.
The Trevor Project Lifeline, 1-866-488-7386
The Trevor Project, dedicated to LGBTQ youth, offers 24/7 support from trained counselors for young people in crisis, in need of a safe and judgement-free place to talk, or having suicidal thoughts.
SAMHSA Treatment Referral Hotline, 1-800-662-4357
This hotline is operated by the Substance Abuse and Mental Health Services Association under the U.S. Department of Health and Human Services
RAINN National Sexual Assault Hotline 1-800-656-4673
This hotline is operated by The Rape, Abuse & Incest National Network, the largest American nonprofit anti-sexual assault organization.