Twelfth Night: A Recap
On the 27, 28, and 29 of February, the winter play took to the stage: William Shakespeare's historied comedy, Twelfth Night. Spectators filled the theater each night to watch as the cast—played by students with a range of experience, from Bishop's theater veterans to first-time actors—and crew put on performance after gut-busting performance of the show. 
The performances of Twelfth Night were the culmination of nearly four months of work on the part of the people involved. Since November—right after performances for the fall play She Kills Monsters wrapped up—actors have been in rehearsals, familiarizing themselves with the storyline and their characters, as well as adjusting to the unfamiliar style of speaking that Shakespeare plays offer up. Stage Manager Alex Cotton ('21) said, "something we really focused on was ensuring that the audience understood and connected with the characters despite the often-confusing Shakesphere talk. We often practiced saying the lines in our own words, so we could understand the emotions themselves."
Twelfth Night is, simply put, a comedy of errors. The story is propelled forward by intricate love triangles and a hilarious series of cases of mistaken identity. The play starts off seriously enough, with Viola—played by Delilah Delgado ('21)—arriving in the land of Illyria after surviving a shipwreck she believes to have killed her twin brother. With help, she disguises herself as a man and arrives at the court of the Duke of Illyria, Orsino—played by Joseph Aguilar ('21). Orsino is deep in the process of trying to get the Countess Olivia—played by Elise Thuresson ('20)—to fall in love with him; within just a few months, however, Viola has fallen madly in love with him, and Olivia has fallen in love with Viola, who Orsino has repeatedly sent to woo the countess on his behalf. In the middle of all of this, Viola's presumably-dead brother Sebastian—played by Gabe Worstell ('20)—reappears and falls for Olivia; she believes him to be Viola. What follows next is, of course, catastrophe, made only worse by the meddlings of Olivia's uncle Sir Toby Belch and his friend Sir Andrew Augucheek, the wisecracking fool Feste, and Olivia's uptight steward Malvolia—played by Maddie Ishayik ('23), Karina Kadia ('22), Eliana Birnbaum-Nahl ('23), and Sabrina Webster ('21) respectively.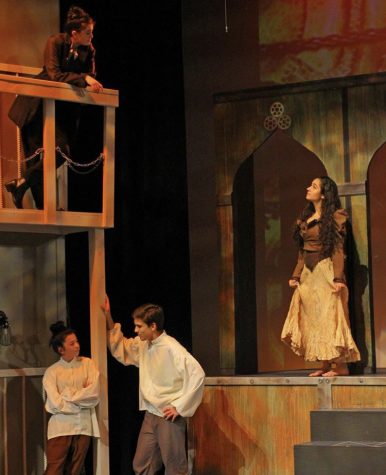 Though an undeniably hilarious play, the language and dialogue within it is much different from what is used on a day-to-day basis today, meaning conveying the plot and the joked that come with it can be difficult sometimes. Many actors found themselves challenged here as they attempted to communicate the jokes and plot of the play that might get lost on those who do not have prior knowledge of Twelfth Night, or just Shakespeare's writing in general. "It was kind of hard to translate to an audience that hadn't spent months studying the text like we had," Delilah conceded. However, she also explained how these challenges gave actors such as herself the opportunity to explore other methods of communicating the text. "It was really interesting to explore physicality and movement choices that helped enforce the meaning behind what we were saying."
Sabrina, too, found some struggles in communicating the nuances of the text to the audience. "Finding the comedy within the play was difficult because it wasn't so blatant in the text, so I had to use a lot of other sources to get the comedy out of it," she explained. Her character Malvolia is known as a notably funny character throughout the play, so Sabrina had to work extra hard to make sure all the jokes landed. "I also had to learn how to say my jokes in a way that they would still come across as funny. In general, I'd say it was definitely a lot harder to get comedy out of Twelfth Night than out of a modern script."
Regardless of the challenges of the language, putting on Twelfth Night was still an enjoyable experience for both those watching the show and those involved. Neal Mehta ('21), who went to the Friday show, had nothing but glowing reviews of the performance. "I think my favorite part was the costumes, to be honest, especially Elise's black dress. They were all so intricate and really fit with the vibe of the show," he said. "Overall, though, the show was amazing. I loved it."
Alex, who had been working on the show since early November, furthered on this idea. "Stage managing Twelfth Night was such a good experience," she said. "I loved bonding with all of the cast members and we became such a good community."
This was only encouraged by the environment the cast created: one that was undeniably positive. To this, Maddie said, "The whole cast was really fun to be around and a great group of people. Everyon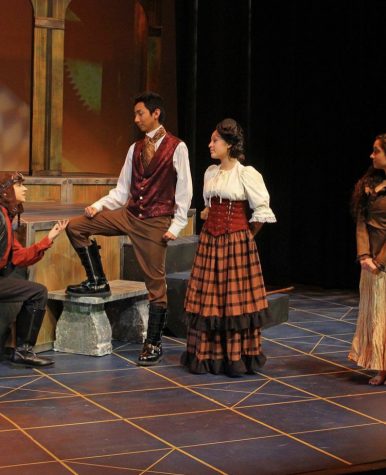 e worked super hard and well together, so it was cool to see the show come together in the end." 
Brett Garon ('21), who played Valentine, added to this. "James was almost instantly included, in my opinion," he said, referencing James Stutts ('23), whose first show at Bishop's was, in fact, Twelfth Night.  "The entire cast was really cool and accepting. The only thing that could've made the show better," Brett added, joking, "would be more eyeliner."