International Mother Language Day Celebration Comes to Bishop's
On February 21, 1952, a group of university students were murdered in the capital city of Bangladesh. They came in a large crowd, advocating for the reinstatement of Bangla as the official language of what was then known as East Pakistan. The military force fired out over the crowd, killing nine and injuring 300. The event sparked the movement to find the identity of the nation. Known as Amor Ekushey in Bangladesh, February 21 commemorates the blood that was shed in 1952. As of 2000, the United Nations has marked the day as International Mother Language Day, an international celebration of diversity in culture and language.
This year, Bishop's celebrates the holiday with a scavenger hunt, created by Spanish teacher Dra. Marda Rose and her Advanced Honors Spanish class. University of California San Diego does their own similar activity, involving posters and places where students can record themselves speaking in other languages. "As I shared the idea of involving everyone in this day,  the members of the Creative Sciences team came up with the idea of a scavenger hunt," said Dra. Rose, explaining the decision to alter the activities.
Her class used the laser cutter to create wall pieces to display around campus, each with a QR code which leads to a greeting in another language, all of which are spoken by some members of the Bishop's community. They emphasized the viewing of these fifteen signs around campus with a contest, lasting through March 3, the winner of which, who visits the most signs, wins a $25 gift card. "The scavenger hunt was a fun way to learn about new languages and cultures," Mira Gowda ('22), who stands at first place in the competition. "I really enjoyed listening to the greetings."
In addition to the scavenger hunt, Dra. Rose has organized an emphasis on the inclusion of diverse cultures through a Persian lunch on February 21. "The support from our kitchen staff was tremendous," she noted. The incorporation of unfamiliar cultures is a way to educate the Bishop's community and allow those with interesting heritages to express themselves around campus. 
"Our work with world languages, global education, cultural diversity, and cross-cultural understanding can only be strengthened through campus-wide events with a global focus," Dra. Rose urged. She scheduled chapel talks on February 25, February 28, and March 3, led by Dr. Ana Celia Zentella from UCSD, and Krish Sheth ('21), to make the holiday a more schoolwide and well-known affair. Even though this has been the first year to celebrate this holiday of diversity, Dra. Rose explained that she thinks the day has lots of potential, stating, "I would like to see the celebration of International Mother Language Day continue on our campus in future years."
Leave a Comment
About the Contributor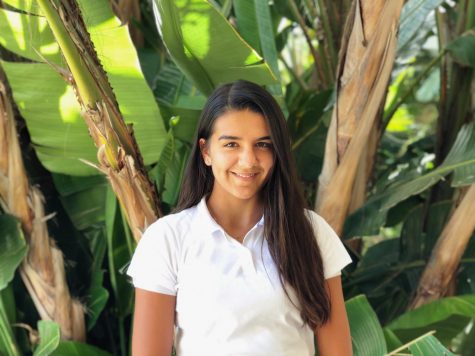 Clare Malhotra, Editor-in-Chief
Clare Malhotra was born in Boston, Massachusetts and moved to La Jolla at age nine. She is currently a senior, and this is her third year on The Tower....