Students Make Blankets for Underprivileged Children
During a double enrichment on February 12, the sophomores made no-sew blankets through the Blankids program of Children Helping Children International (CHCI). Bishop's Service Learning Department has worked with CHCI and Blankids for the past three years to make blankets for those in need across the globe. In the previous years, students from across San Diego have made blankets for children in poverty from Colombia, Nicaragua, Costa Rica, Philippines, and even children in San Diego who have been affected by the Trump administration's family separation policy. This year, each grade level is assigned a different location, as the sophomore students were paired up with a camp for Syrian refugees located in Lebanon, and the junior class made blankets for homeless youth at the U.S.-Mexico border. All students received one hour of community service credit for doing this activity.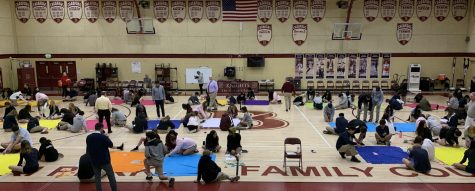 According to its website, "CHCI is a 501(c)(3) nonprofit organization designed to involve American children in helping underprivileged children around the world," giving blankets and support to groups such as homeless children, refugees, separated youth at the border, and foster youth. Since its founding in 2009, Blankids has donated a total of 2,782 blankets to kids around the world and involved 26 organizations in their work, including synagogues, ministries, and schools from San Diego to Columbus, Ohio. Director of Service Learning Mrs. Jackie Gomez said, "This is one of my favorite activities because it involves the entire school, the kids who receive them are very appreciative, and the Bishop's students have fun making them."
Executive director and founder of CHCI Tatiana Zunshine has been an activist for many causes over her lifetime. She originally came to the United States in 1987 after being kicked out of the former Soviet Union. "I was given just three days to pack," she said. She is still an activist for human rights on the whole but now focuses specifically on her CHCI organization and the Blankids program. She strongly appreciated the participation of Bishop's students, saying, "I think Bishop's has been one of the best schools that participates, as they make quality blankets and have incredible attitudes. Every year is great and I hope for more!"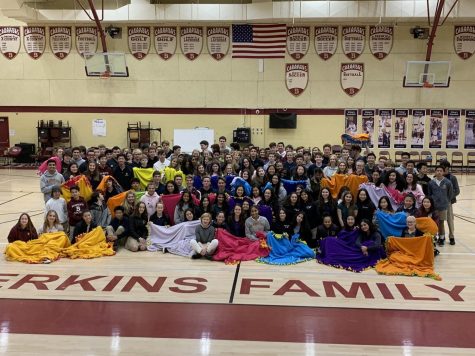 The type of blankets made is called no-sew blankets, which means that there are no sewing machines used—just scissors, templates for cutting, and people's hands. Each station had two layers of fabric, which had to be laid directly on top of each other to maintain the format of the blanket. The first step was to take the scissors and cut the edges of the two smaller sides of the rectangle because they have edges that might curl up. Next, the students took the packets of squares and strip-sized rectangles at each station and used them as templates for where to cut. The squares were used to cut out the four corners so there would be no excess fabric on the corner after tying the knots, and the strips were used to make cuts along the length of the rectangle, creating strips on both pieces of fabric to tie together. Each knot needed to be a double knot so that it did not become untied or pull fabric into the knot. Each advisory made either two or three blankets with a handmade letter for each.
The event is organized annually by the class Service Representatives through the Service Learning department. Sophomore Service Representative Alina Kureshi ('22) said, "I think this is a great opportunity to help those who need to stay warm this winter." Zenzele Greene ('22) also said, "I like making blankets and it was a great experience to help those in Lebanon without warmth and stability."
The blankets will be sent to Lebanon and the border with letters that were made by the students, and then response letters by those children will be sent to CHCI and uploaded onto their website, at www.chcint.org/bk.
View Comments(1)
About the Contributor
Kyle Berlage, Graphics Editor-in-Chief
Kyle Berlage joined The Tower as a freshman in 2018. Was he a terror then? Yes, but so were others on staff. After all, if all your friends jump off a...