Controversy at the Civic: Dear Evan Hansen Comes to San Diego
Warning: This article discusses sensitive topics regarding mental health.
Identical playbills, held by a perfectly posed thumb in the bottom right corner of the screen, in front of a closed red curtain. This is the shot that seemed to be on everyone's Instagram story this January. From December 31 to January 12, the San Diego Civic Theatre offered 16 showings of the Broadway musical Dear Evan Hansen. The musical is about a boy named Evan Hansen who suffers from severe social anxiety. This show has raised questions about the glorification of suicide in the media, a critique that is shared by various members of the student body and faculty on campus. 
In the musical, Evan's therapist suggests he write a letter to himself every day about the positive things in his life to help him cope with his anxiety. One day, Connor finds one of these letters on the school printer and, seeing his sister's name, takes it with him. Later, Connor commits suicide—the reasons for which are not mentioned—and his parents find Evan's letter folded up in Connor's pocket. They think that the letter is Connor's suicide note and contact Evan to explain what happened. 
Word soon spreads, and students at their school believe that Evan and Connor had a close relationship that they did, in fact, not have. Evan uses Connor's death to gain popularity, pretending that he and Connor had actually been close friends, which puts him on the map at the high school.
According to an Instagram survey on @thebishopstower, approximately 32% of respondents have seen the musical. In response to the overwhelming amount of people posting photos of the playbill on their Instagram stories, one student took a strong stance against Dear Evan Hansen. On January 5 at 7:48 p.m., senior Gabe Worstell posted a message for all his followers to see. It read: "hey fun fact/ [Dear Evan Hansen] makes a spectacle of teen suicide!/ not cute/ the story surrounding the suicide of Connor is romantic and manipulative!/ really not cute!!" Gabe felt that the musical tried to write Evan's actions off as a product of a mental disorder, noting, "the writers slapped Evan with a mental illness as a way to say every part of this story is justifiable because Evan has anxiety." 
School Counselor Mrs. Megan Broderick ('98) recognizes Gabe's concern about the glorification of suicide and brings up another potentially dangerous part of the musical. At no point in Dear Evan Hansen does a child with mental illness talk to their parents or counselors about what is going on in their lives. "It makes the adults seem like the enemies," she noted. "It's the same complaint I had with 13 Reasons Why a few years back." 13 Reasons Why is a show famous for its depiction of the suicide of the fictional character Hannah Baker. Mrs. Broderick thinks that this show's portrayal of school counselors is dangerous and inaccurate. "Hannah visits the school counselor and tells him she thinks she may have been raped," she explained. "His response is essentially 'get over it.'"
While Mrs. Broderick feels that the illustration of such prevalent topics like mental illness is important, she still feels that when media engages with such topics, it can make committing suicide seem like a viable solution to one's problems. 
In an article by CNN, Alexa Curtis, founder of Media Impact and Navigation for Teens—a nonprofit that spreads awareness about online bullying— said, "Had I been watching [13 Reasons Why] as the vulnerable, fragile kid that I was when I was 13 or 14, I might have watched that and thought, 'Oh, that's the easy way out. This is going to get me the attention that I need. This is what I have to do.'"
Some students on campus, however, disagree and believe that Dear Evan Hansen handles the topic of suicide in a productive way. Sabrina Webster ('21) is one such person who believes the musical is "an artistic response to a modern issue; while it encourages discussion and questions, [she] believe[s] it gracefully grapples with a topic so sensitive as suicide." Theatre teacher Mr. Nathan Emmons acknowledges that the topics referenced in Dear Evan Hansen can be disturbing, but that could be one intention of the piece. He believes that such pieces "inevitably cause us to think more deeply," going on to say, "That's self-knowledge, and that's invaluable."
Leave a Comment
About the Contributor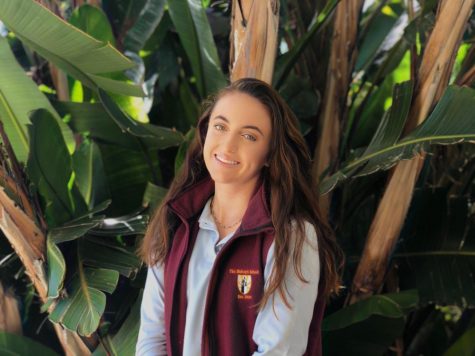 Lucie Edwards, Graphics Editor - Print
Lucie Edwards joined The Tower near the beginning of her sophomore year, where she developed a love for graphic design and layout. In her free time, she...