No, You're Not Going to Get the Plague: What You Need to Know About the Coronavirus
What began as a local concern in Wuhan, China is now a growing problem for the international community—including the residents of Southern California. COVID-19, colloquially known as Coronavirus, or 'that plague from China,' has been spreading rapidly through China, largely due to the fact that there is no vaccine or treatment for it. The virus was first noticed in December and is believed to be linked to a seafood and meat market in Wuhan. Since then, there have been more than 75,000 confirmed cases and 2,000 confirmed deaths, giving the virus approximately a 2% mortality rate. 
So, what is a Coronavirus? Coronaviruses are named for their distinctive crown-like spikes on their surfaces. This virus that transmits from animals to humans, but also human to human. Coronaviruses typically have an affinity for animals such as bats, pigs, and other small mammals. They also mutate easily, making them harder to treat and thus even more deadly. There are seven strains of Coronavirus that can affect humans. Four of them cause the symptoms akin to the common cold, two others are extremely deadly and interfere with the respiratory system, and the final one is the Wuhan Virus. Symptoms of the Wuhan Virus include fever, cough, and respiratory illness.
To address this epidemic, China has taken a few steps to control the outbreak. Addressing the Chinese Communist Party, President Xi Jinping has declared China to be in a "grave situation." Beijing has placed many cities under heavy travel restrictions. Hubei Province— where Wuhan is located—has been especially impacted. 16 cities and 51 million people have been banned from traveling in an attempt to contain the outbreak. Additionally, Lunar New Year's public holiday will be extended in an attempt to reduce population flow. 
Coronaviruses have broken out a few times before. Severe Acute Respiratory Syndrome (SARS) broke out in Asia in 2003 and Middle Eastern Respiratory Syndrome (MERS) was detected in 2012. SARS was extremely devastating—8,098 people contracted the virus and 774 people died. However, it appears that China has learned from its mistakes. During the SARS outbreak, China attempted to censor news of the virus to protect their financial interests in Guangdong. However, China has been much more open about the reality of their situation, informing various organizations and the public in general by December 31. Yet, it appears that they still have some room to grow, as when a group of journalists went to a hospital, they were detained and forced to delete footage related to the outbreak. 
Internationally, the World Health Organization (WHO) of the United Nations has declared the Coronavirus a "Public Health Emergency." In response, the United States has implemented some preventative efforts. As of the time of publication, there are twenty-nine confirmed cases of Coronavirus in the United States, twelve of them in California. There is one case in San Diego, but the patient is under quarantine meaning they do not pose a risk to the general public. The Bureau of Consular Advisory has raised the travel advisory warning of China to a level four, or a "do not travel." Finally, a charter flight has brought diplomats and other American citizens home from China. 
Currently, there are no cases of Coronavirus on the Bishop's campus, but there is action that all of us can take to keep the community safe. In emails and announcements, Nurse Fournier has advised us to wash our hands. Soap and hot water may not seem like much, but it can stop disease because it kills germs. Viruses and bacteria enter your system through holes in your face, and people touch their faces a lot, so washing your hands is preventative. If washing hands is not available, then the next recourse is using hand sanitizer. If you have a fever, then avoid coming to school until you have been fever-free without medication for 24 hours. The other, more extreme precautionary measure is a face mask. N95 is one of the best masks on the market. It is capable of filtering out particles larger than 0.3 microns. However, the coronavirus is between 0.1 and 0.2 microns. Many people, such as Nancy Waldman ('23), believe that some protection is better than none, saying, "My mom bought six air masks because of it." However, if you want to go that route, make sure to change your mask at least daily or the contents of your mouth and nose will cling to it. 
The spread of the Wuhan Virus may seem like the end of the world, but as Eliana Birnbaum-Nahl ('23) put it, "The likelihood that you as an American are going to get it is very low." 
Leave a Comment
About the Contributor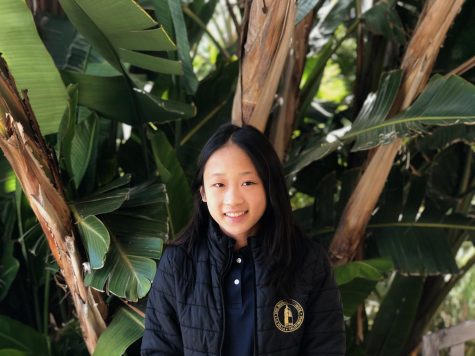 Kasie Leung, Staff Writer
Kasie Leung is a freshman staff writer for The Tower. When not writing manifesto-length articles, you can find her in Gilman-32 spending ungodly amounts...