For Kobe
Kobe Bryant's legacy continues on after his death.
On Sunday, January 26, the news broke that basketball great Kobe Bryant, his daughter Gianna Bryant, and seven others died in a helicopter crash in Calabasas, California. The helicopter went down on the way to Mamba Sports Academy, the sports center which Bryant owned. Orange Coast College baseball coach John Altobelli, his wife Keri, and their daughter Alyssa—Gianna's teammate—also died in the crash, along with four others. Gianna and Alyssa were basketball stars on the rise, both only 13 years old and playing for Bryant's club team.
Bryant was a legend in the basketball community. He was drafted into the National Basketball Association (NBA) in 1996 at only 17 years old, making him the second youngest player to play in the NBA. He went on to carry the Los Angeles Lakers to five championships. He played 20 seasons in the NBA, 18 for which he was named an All Star player (24 players are chosen every year to play in an exhibition basketball game). His skill and dedication to the game was unparalleled. Bryant also earned two NBA finals Most Valued Player (MVP) awards and was recognized with the regular-season MVP Award in 2008. On top of all of this, Bryant also had two Olympic gold medals to his name. In the last game of his career, Bryant scored 60 points against the Utah Jazz. 
Bryant had a meaningful life outside of basketball. He was a loving father of four and husband, earned an Oscar in 2018, and even wrote a book called The Mamba Mentality: How I Play. Bryant also opened the Mamba Sports Academy in 2018, an athletic center where he coached his daughter's basketball team. 
In honor of Bryant's death, the Los Angeles Lakers retired his two jersey numbers, 24 and 8. This means that no other Lakers players will wear those numbers. During their first game after his passing, they honored him with a performance from Usher of "Amazing Grace," and a touching speech from Lebron James, a teammate of Bryant's. The entire Laker's team wore Bryant's jersey when they came onto the court, and Gianna's teammates watched the game from the sideline. Last but not least, the Lakers honored Bryant with a new jersey patch with his initials. In the words of Lebron James, "Mamba [is] out, but not forgotten."
Kobe Bryant was a powerful figure who embodied hard work and grit. His legacy lives on in all the people he inspired. 
"
I think that Kobe was an inspiration to everyone, regardless of whether you played basketball or not. He showed that if you love something, you should give it everything you've got."
— Kellen Hobson ('20)
"
Kobe taught me, and many others, that greatness does not come easy. I think that one of his many gifts to the world was inspiring people so that they can be great in whatever they choose to do, and I think that is what I will remember the most about him."
— Jada Davis-Mack ('21)
"
Kobe was and will forever be a legend. He was an amazing role model not only in basketball but in all aspects of life. The death of him and his daughter is truly devastating and they will be missed. I pray for his wife and family."
— Natalia Sierra-Vargas ('22)
"
I grew up watching Kobe on TV and I dressed up as Kobe twice for Halloween. He will forever be my role model for success and worth ethic."
— Alex-Rose Molinar ('20)
"
Kobe's humility and determination reminded me that there is no success without hard work. He would want us to continue on and keep that Mamba Mentality. "
— Maddie Keck ('22)
Leave a Comment
About the Contributor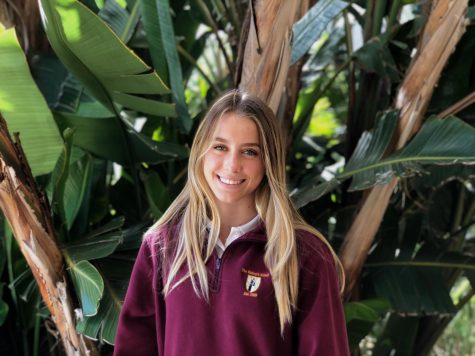 Abby Beamer, Staff Writer
Abby Beamer is a sophomore staff writer for The Tower. She likes singing and her friends often tell her to shut up, probably because she shouldn't sing....