FEM Club: Promoting Discussions about Gender Inequality
In 2017, women made 80 cents to a man's dollar according to a study conducted by the Pew Research Center, a 20% difference. Forty-two percent of women say they have faced gender discrimination in the workplace. One in four workers in STEM is a woman. These are just a few of the issues that FEM Club discusses. 
FEM stands for Female Empowerment Meeting, a club that meets once a cycle to discuss gender stereotypes as well as any and all issues regarding gender discrimination or issues. Eliana Birnbaum-Nahl ('23), founder of the club, explained that she started it with the belief that "it's good to provide girls with a space where they can talk about the issues that surround gender and seriously talk about how our society works." According to Outreach Representative Nora Bitar ('25), they enjoy discussing "empowering women, and women who empower." The club—which encourages attendance of students of any gender—looks to activists like Harry Potter actress Emma Watson, who promotes girls' education and stresses that feminism is crucial. "If you stand for equality, then you're a feminist, the actress explained."
"A lot of people have misconceptions about feminism as hating men and wanting women to be in power of everything and being superior to men," explained Club President Sierra Lever ('25), "but feminism is the equality of all genders." The club considered changing their name because "many people assume 'FEM' is short for 'feminist.,"  and see the negative connotations rather than the true meaning, explained faculty advisor Ms. Lara Korneychuk. "However," she said, "the consensus was that they'd rather educate the community on what FEM is all about than change our name to something that is easier for people to swallow."
Ms. Korneychuk explained that FEM Club discusses how women often see others as competition. "I think society encourages women to compare themselves to each other, tear themselves or others down, compete for male attention or approval, and measure up to a beauty standard that someone else decided was beauty." The club encourages Bishop's students to support one another, rather than create a sense of competition or rivalry. "Our female-identifying students' experiences at Bishop's (and beyond) are going to be infinitely better if they stand in support of each other, rejoice in each other's successes, and cheer each other on," she reasoned. 
The club does not only focus on women's rights, but also on discussing stereotypes associated with men and boys. One Instagram post advocates for accepting that boys can do things like "wear pink," or "dance," or "be artsy." "Non-female students suffer from the repercussions of gender inequality as well," Ms. Korneychuck noted. "I am passionate about supporting all young people in becoming positive members of society, who are comfortable discussing their feelings, have healthy relationships, and make the world a better place."
Leave a Comment
About the Contributor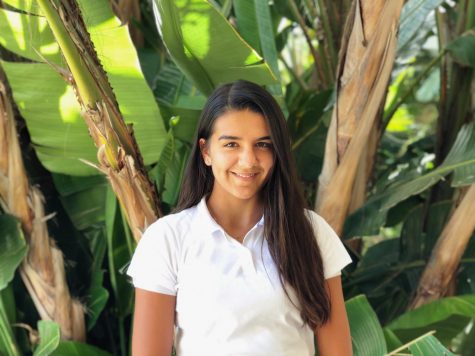 Clare Malhotra, Editor-in-Chief
Clare Malhotra was born in Boston, Massachusetts and moved to La Jolla at age nine. She is currently a senior, and this is her third year on The Tower....