The Fifth Annual Knights Model United Nations conference
Last Saturday, while everyone was at home, studying/procrastinating for cumulatives, Bishop's played host to more than 170 students representing about a dozen schools for the annual Knights Model United Nations (MUN) Conference. 
You may have seen the club advertising itself by plastering memes all around campus: Model United Nations is an activity in which students represent delegations of countries at conferences, and attempt to solve global issues. Delegates go to conferences not to share their own morals, but rather those of the countries they represent. Each delegate in a committee attempts to persuade other delegates to side with them, and the ultimate goal is to convince enough delegates to your side to pass what is known as a resolution, a bill that dictates what action will be taken to solve an issue. The MUN team often travels to other schools such as the University of California, San Diego, to compete at conferences, but last Saturday, they hosted one of their own.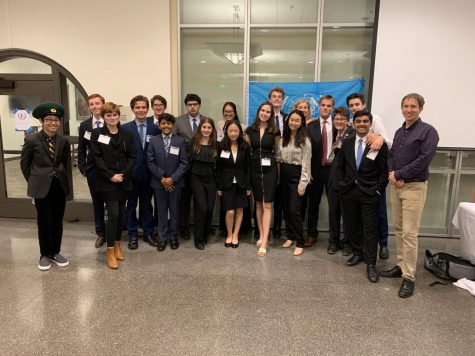 Knights MUN tackled a breadth of complex topics. In total, there were six committees: United Nations Children Fund (UNICEF) tackling education in West Africa, Economic and Social Council (ECOSOC) deciding the ethicality of human cloning, Historical General Assembly negotiating Chinese representation in 1971, Security Council working out possession of the Kashmir region and a joint crisis committee representing Israel and Eygpt's viewpoints in the Suez Canal dispute. James Stutts ('23) attended the conference as a delegate in the ECOSOC committee. He enjoyed this experience because he,"learned to be more diplomatic through forming alliances."
Although history teacher and MUN Coach Mr. Matthew Valji played a huge role in organizing the conference and the logistics between different schools, a large part of it was student-run. Or, more specifically, run by the secretariat. Just like the real United Nations has a secretariat in charge of procedure, the MUN team has a secretariat, a panel of student leaders. This year, it is composed of Timmy Kelly ('20), Tommy Sottosanti ('20), Kira Tran ('20), Iraj Moradi ('20), Miles McInerny ('20), Schuyler Capita ('21) and Maddie Cayer ('22), who were responsible for putting together this year's Knights MUN Conference. 
Mr. Valji said, "It took a lot of planning to make Knights MUN happen and I'm really proud of all the student leaders making sure that the conference overall and their committees were ready for the big day. I think it went really well, and that's because of the hard work and preparation of our students." 
For the secretariat, the experience was different from that of the delegates but just as enjoyable. When asked about her favorite part of the conference, Maddie simply replied "Coptic brotherhood." This was a reference to a little incident that happened during the crisis committee that she led. The delegates revived an old religion, made it into a cult, claimed a third of the Suez Canal for it, and caused it to surpass Catholicism on its way to becoming one of the largest religions in the world.
However, it wasn't all fun and games. A lot of preparation went into setting up the conference. Delegates send in position papers, essays explaining their country's position on an issue. All of these papers have to be graded before the conference can begin, and much of that responsibility falls on to the students organizing it. As Maddie put it, it was "A lot of grading, planning, and writing background guides." However, it appears that the secretariat was able to learn from the experience, as Timmy remarked, "The process definitely teaches you a thing or two about efficient time management."
Leave a Comment
About the Contributor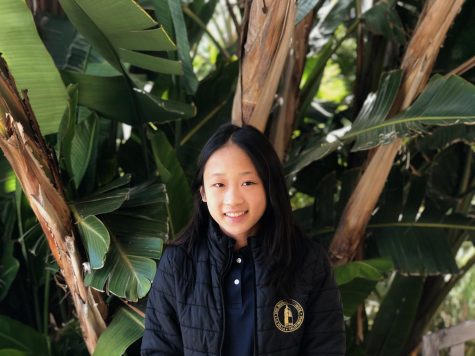 Kasie Leung, Staff Writer
Kasie Leung is a freshman staff writer for The Tower. When not writing manifesto-length articles, you can find her in Gilman-32 spending ungodly amounts...