Becoming: How Musical Theatre 8 Brought Their Broadway Revue to the Stage
"Musical Theater 8 [MT8] was an unforgettable learning experience that gave me a chance to improve my own skills and get closer to my peers. The best part was getting to hang out with my peers backstage during tech week where we shared laughs, memories, pre-show nerves, and went through about 10 dozen packets of hair ties." Mia Bravo ('24)  reflected on her experience performing in MT8's Broadway Revue (a show with songs, dances, and skits strung together by a theme), and her castmates couldn't agree more. 
On December 12 and 13, MT8 performed Becoming, a show about the transformation that people, especially teenagers, experience. The format of the show was a collection of songs, monologues and group numbers from various musicals. 
The curtain rose to the opening notes of "Defying Gravity" from Wicked. The entire ensemble composed of 31 eighth graders sang and danced to this iconic 2003 hit about not having to conform to expectations. The next song after that was "Corner of the Sky" from Pippin, a touching song about finding your place in life performed by eighth graders Raphael Delagado, Eric Chen, Garrett Eastman-Pinto, and Sofia Verma. The first solo of the night was the song "You've Got Possibilities" from the musical It's a Bird… It's a Plane… It's Superman. Sung by Sophia Gleeson ('24), the song approached the topic of possibilities and being more than you think you are. After that came the hilarious duet from Ben Hollingshead ('24) and Seth Pintar ('24), in which they performed "We Can Do It" from The Producers. "We Can Do It" is a number in which one character tries to convince his friend to produce a sham of a musical with him so they can embezzle the money from it. The dynamic of the extraordinarily overconfident friend and the terribly insecure one left the audience in stitches. 
One of the most memorable numbers was a dance number entitled "Tornado Dance." The dance was choreographed by Arden Lichter ('21), a member of Studio Dance group, and performed by six students: Isadora Blatt ('24), Bella Gallus ('24), Sophia, Lila Hampers ('24), Sanskar Lohchab ('24) and Andrew Perkins ('24). Arden's professional choreography and the uniqueness of the piece made it one of Isadora's favorite parts of the show. "What drew me to the Tornado dance routine was the motivated and powerful style of it," she explained. "In some parts we were portraying a powerful kind of motivation and other parts were energetic and fun."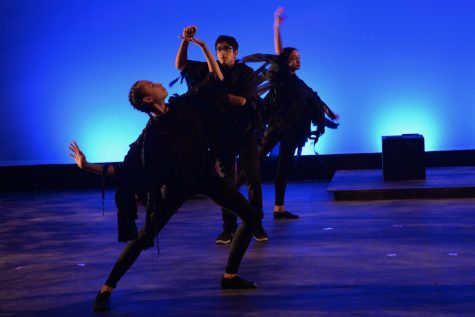 One of the most difficult parts about growing up is redefining relationships with authority. Eighth graders Lily Trudersheim, Emma Madany, Leila Feldman, Mia, Grace Dabir, and Mia Gaspar addressed this issue in their performance of "Naughty" from the musical Matilda. This was another cast favorite, and Lily said, "It was such a fun dance! It was a super relatable and funny song at times." After that was the sweet and touching duet from eighth graders Reagan Kibler and Marcus Buu-hoan, in which they sang "It Takes Two" from Into the Woods. In it, they portrayed a couple discovering something new about each other and learning to rely on each other. 
The last small group number of the night was "At the Ballet" from A Chorus Line, where eighth graders Lila, Andrew, Chloe Shiue, Ripples Turquand, Sophia Guan, Kaila Turley, and Shivani Kadia portrayed dancers finding an escape at the ballet. "What drew me most to At the Ballet was the amazing people," said Lila. "They made the song so much more fun. Everything was at peace when we were together with the entire cast. We really wanted to portray how much we loved the cast in our song and how much fun we had preparing the song."
Near the end of the show, Rithvik Raguram ('24) "I'm Coming Out of My Shell" from A Year With Frog and Toad. After that, Isadora and Sophia sang "For Good" from Wicked. Wearing gorgeous capes that mimicked the wings of a monarch butterfly, they sang the bittersweet duet about friendship and how that changes people for the better. Finally, the ensemble came together one more time to sing "Freak Flag" from Shrek, a song about being who you are, and never letting the world change you. In a world where social pressures are all-encompassing, particularly in middle school, it was a touching ending to see the ensemble singing together about acceptance and originality.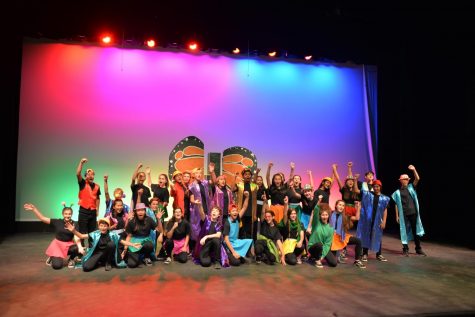 Interspersed throughout the songs were a collection of original monologues, all written by the students. They ranged from the funny to the serious, and they tackled a huge range of topics from first periods in a monologue entitled "Leak Week" by Emma Madany ('24), to social media in a series of three monologues by Leila Feldman ('24). A common theme running throughout the monologue was relationship struggles and awkward boys. In "Man-Scar," written by Raphael and performed by Sanskar Lohchab, Sanskar portrayed a boy trying to prove how "cool" he was by showing of his new scar that he earned falling off his scooter. In another monologue "P.U.berty" written and performed by Ben and Rithvik, Rithvik laments to Ben about how his voice cracks get in the way of wooing a girl. Many of the monologues drew from the lives of the students. Leila, who wrote a series of monologues in which she begs for permission from her mother to have social media said "My inspiration behind my monologue was my life. Both of my stories were real true events that happened to me and so turning that into a monologue made it not only relatable but much easier to write." Director and performing arts teacher Ms. Lara Korneychuk note "There's this level of vulnerability in this show that's kind of new. I'm excited for the raw authentic version of middle school that we're representing in this show."
Throughout the entire show, the performers would pick up blocks and move them to the back of the stage after their numbers. It was revealed at the end of the show that the blocks formed a gorgeous butterfly with quotes about transformation written all over it. Isadora says it best: "The tech crew did such a beautiful job on it and it ties the show together by representing the growth and changes that we all go through. I could tell that the metaphor impacted the audience every time." 
A show as amazing as that doesn't come together overnight. In fact, the preparation process began in the spring of last year when Ms. Korneychuk and dance teacher Ms. Donna Cory created the theme, keeping it in line with the overall theme of transformation running through the Performing Arts Department this year. Throughout the summer, the show was constantly on Ms. Korneychuk's mind as she brainstormed ideas for songs. "I'd post about it on FaceBook and get suggestions from my dorky musical theatre friends," she explained. Then, at the beginning of the school year, the students started to learn the opening and closing numbers, both of which involve the entire ensemble. As the semester progressed, students started to work on individual projects, including solos, small groups, dance features, or set design.  
One of the biggest challenges in putting together this show was working with people of many different experience levels. For example, before Ms. Korneychuk can hold auditions, she has to teach the students how to audition. "For a normal extracurricular, you just kind of expect that people know [how to audition] going in, but for this class, I have to teach all of that." Additionally, teaching choreography can be more difficult because "Middle school bodies are a little bit slower at learning movement." Leila agrees with that, saying "Coming from someone with a very little dance background, a lot of the dancing was challenging but when most of the class was in the same boat, it wasn't as bad."
Middle school is hard. It represents a time of change and uncertainty that can be hard to express. After a semester of hard work, MT8 put on an incredible show that captured all of those feelings perfectly. 
Leave a Comment
About the Contributor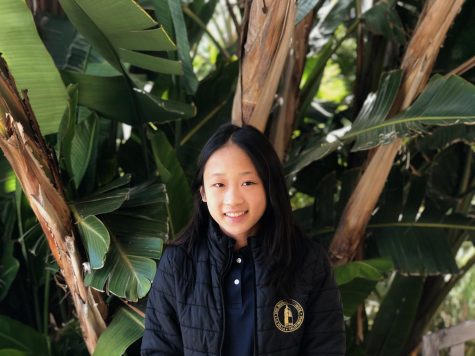 Kasie Leung, Staff Writer
Kasie Leung is a freshman staff writer for The Tower. When not writing manifesto-length articles, you can find her in Gilman-32 spending ungodly amounts...