Through the Wardrobe: A Look Into How Performing Dance Group Brought Narnia to the Stage
As a child, I remember receiving a copy of The Chronicles of Narnia. Long after I have forgotten the plot, I will remember the magic and adventure that C.S. Lewis found words for. It's the same magic and adventure that Performing Dance Group (PDG) brought to stage over the course of three days. The first performance was Thursday, November 7 and there were four other performances, two each on the following Friday and Saturday. 
PDG currently has 14 members: Delilah Delegado ('21), Cami Farrell ('22), Ashlyn Hunter ('20), Jessica Li (20), Maya Minagawa ('20), Sheridan Spain ('20), Alexandra Spitzer ('21), Elise Watson ('22), Gabe Worstell ('20), Jamie Xiao ('20), Elaine Yoon ('20), Sharisa You ('22) and Daniel Zhao ('21). They were joined by guest artists Robert Devoe ('22) and Haha Shi ('22). 
Inspired by one of Lewis's novels The Lion, The Witch and The Wardrobe, this concert tried extraordinarily hard to remain true to the book. When asked why she chose that book, dance teacher and Director Ms. Donna Cory said, "It's a story full of movement. I think there's emotional movement and there's physical movement." 
If you haven't read the book or weren't able to see the show, the plot follows the four Pensive siblings: Lucy, performed by Jamie; Edward, performed by Daniel; Susan, performed by Elaine; and Peter, performed by Robert. To escape the air raids of World War II, they are sent to a house in the countryside. Through a wardrobe, Lucy stumbles into the magical land of Narnia. Edmund eventually finds his way to Narnia, but his experience is less pleasant. He meets Jadis, the White Witch, performed by Sheridan, who puts him under her spell with the aid of a little Turkish Delight. All four siblings eventually find their way to Narnia where they meet Aslan—played by Gabe— the wise lion who guides Narnia. The climax of the show is a dance between Jadis and Aslan. While one might expect such an important moment to be choreographed, it is actually an improvisation between Gabe and Sheridan. In other words, the dancers create movement on the spot, an incredibly difficult task.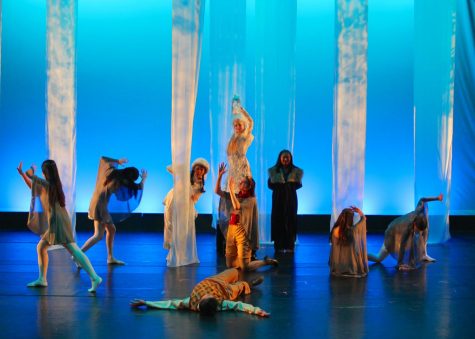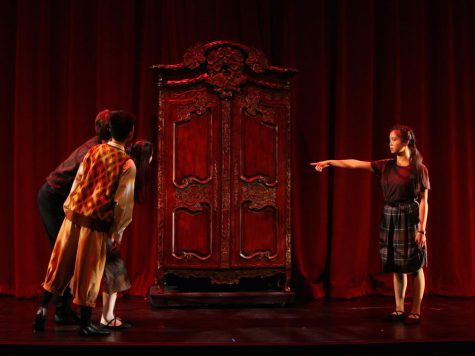 A show like that doesn't come together overnight. In fact, it requires herculean effort from Ms. Cory, who begins choreographing a show up to a year before it makes it to the stage. In fact, she's already started next year's fall concert. "There's a sameness every fall, no matter what the topic is." Ms. Cory said this in reference to the way she choreographs. No matter how many good ideas she has for later parts of the show, she always starts from the beginning of the concert and moves on chronologically. While doing choreography, she begins costuming.  "I just choreograph something, and then I keep watching it in my head. Whatever they're wearing in my head, I try to make."
Then, rehearsals begin. Somewhere in third quarter, she begins assigning roles to the juniors who will be seniors by the time the show rolls around. Last April, she ordered 25 copies of The Lion, The Witch and The Wardrobe and said this to her dancers: "Even if you've read it a hundred times already, you need to read it again from the point of view of your character. Read it as research, not as a story." It appears that the dancers were also able to learn a lot from the book; Cami said, "I've learned a lot about the background of The Lion, The Witch, and The Wardrobe, and its themes; it was so wonderful to see how Ms. Cory's vision of the storyline came together." Maya said, "The rehearsal process was just as much about developing characters and exploring the story and the world of Narnia as it was about memorizing choreography." Through the summer and first semester, the dancers learn their choreography in and out of class. Cami said, "We rehearsed every Tuesday after school since the beginning of the year and as the show came closer we rehearsed every day after school."
A week before the show, it's Tech Week. Most rehearsals take place in the dance studio above the gym, but the show takes place in the Taylor Performing Arts Center. Dancers have to rehearse in the theatre to get used to the different space, floor and environment. The dancers spend three to four days spacing the concert, then two days with lighting and finally, three days figuring out costumes. Tech is a critical part of this process, and Cami is grateful for all of their hard work saying, "After this show, I have a deeper appreciation for our tech and crew as they dive into the show quite late in the process of the concert, yet are still able to do such an amazing job." Finally, it's show week. Cami describes this experience perfectly saying "Show week is pretty stressful, so it's so great to have everyone just helping each other out with quick changes backstage or hair and makeup."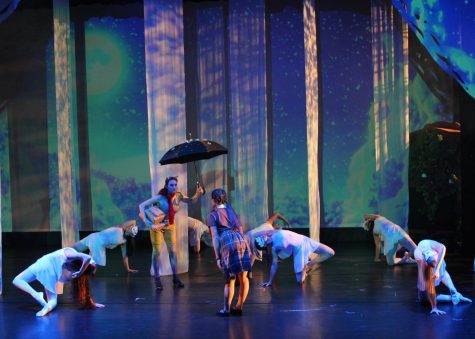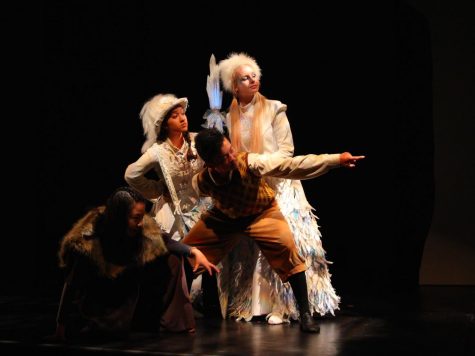 For some dancers, especially the seniors, it was their last Fall Dance Concert. While they still have the Spring Dance Concert, it's still a really nostalgic moment. Jess said, "The two fall concerts I've had the opportunity to do have produced some of the best memories of my high school experience. Being backstage with my friends, going through all the ups and downs of rehearsing and performing together, going to dessert places and cafes between rehearsals and after shows. PDG is a super supportive, super loving, super fun group of people, and the fall concert almost always ends up bringing out the best in all of us. It's like a really intense two-week period of forced bonding, and it's one of the best parts of being part of this group." 
Maya agreed that it was one of her favorite memories of Bishop's: "Performing in this concert was an incredible experience for me, not only because it was my first PDG show ever but because it was the first dance concert I've ever been a part of. I'm sad this was the first and last fall concert I'll ever get to do. Overall, it was one of the best experiences I've had at Bishop's." 
This is also Cami's first show, and she has many more to come, but she has the same feelings as the rest of the cast. "Above anything, I thought that this concert brought everyone in PDG so much closer together. I'm so grateful to have met such a dedicated, compassionate, and loving group who are so supportive and uplifting." 
Leave a Comment
About the Contributor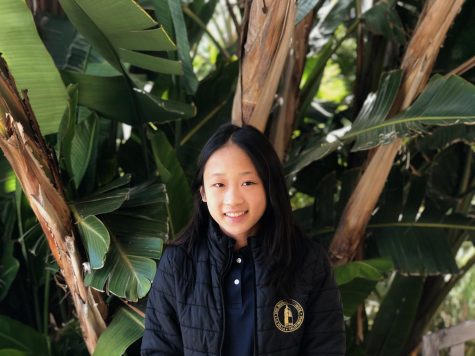 Kasie Leung, Staff Writer
Kasie Leung is a freshman staff writer for The Tower. When not writing manifesto-length articles, you can find her in Gilman-32 spending ungodly amounts...