Harry Steals Hearts Once More
Harry Styles is Back with a Second Album
It's happened. It's finally happened. The moment millions across the world have been waiting since May of 2017. Harry Styles, former boyband extraordinaire and current solo musician — and actor, on the rare occasion — released his sophomore album on December 13, after first being announced on the singer's Instagram account on November 4.
True to his word, Styles has finally released his album—entitled Fine Line—across all major music platforms, as well as the three previously released singles — "Lights Up", "Adore You", and "Watermelon Sugar." The album features 12 tracks in its entirety, discussing themes ranging from heartbreak to the honeymoon phase of relationships to self-discovery to simply having a good time.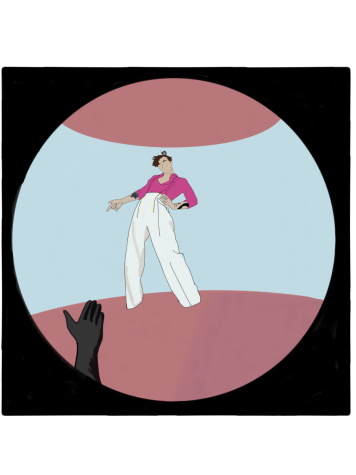 Track 1: "Golden"
Contrasting with the opener ("Meet Me In The Hallway") for Style's eponymously-titled first album, "Golden" provides a much more upbeat entrance to Styles's sophomore album, with mellow guitar riffs blending with his overlapping background vocals, very much imparting a summer-y feeling on the listener. "Golden" provides both an easy entrance into the rest of the album and leaves the listener excited for the tracks to come. In an interview with Zane Lowe from Apple Music, Styles described the day "Golden" was written as one of his favorite in the process of creating the album. "I used to drive to the studio, and ["Golden"] is the perfect PCH song," he explained, in reference to California's Pacific Coast Highway. "It's like driving down the coast is what the song is for. It feels so Malibu to me."
Track 2: "Watermelon Sugar"
The second single off the album, "Watermelon Sugar," was released without any warning just hours before Styles performed the track on Saturday Night Live. Continuing in much of the same vein as "Golden," the track boasts similar airy, jazzy guitar riffs and Style's mellow vocals, carrying the listener through the track with ease. The horn selection that kicks in during the ending chorus gives the track a groovy sort of vibe, taking the listener out of the lull the first two songs might've eased them into.
Track 3: "Adore You"
Styles's third and final single for Fine Line, "Adore You," is a bit of a transition from the guitar-dominated, breezy vibes from the first two tracks. A heavy bass and synth instrumental backs Style's singing, in which he describes his love and adoration for a significant other. The chorus ("I'd walk through fire for you/Just let me adore you") features a more amped-up, powerful version of Styles's vocals, something he became well-known for on his first album. This shows that — despite his more mellow vocals in the openers of Fine Line— Styles has very much not lost his touch.
Track 4: "Lights Up"
Style's first single combines many of the elements found in the previous songs: a heavy bass backing with mellow guitar accompaniment, as well as the singer's famous belting vocals. The lyrics take a turn from the first three tracks, taking on a more melancholy tone. Styles gets introspective on this track, with lines such as "Know who you are/Do you know who you are?" repeating throughout the track. The exact meaning of the lyrics is more open-ended, leading fans to speculate that they could be discussing a number of things, from the singer's rise to stardom at an early age to his sexuality. Styles himself, in an interview with Capital FM, said "I think the song is about freedom and self-reflection, self-discovery…a couple of things that I'd kind of thought about and, I guess, wrestled with a little bit of the last couple of years."
Track 5: "Cherry"
While much of the album is speculated to be relating to Styles's ex-girlfriend, French model Camille Rowe, "Cherry" is the first track that directly addresses the split. The song opens with "Don't you call him baby/We're not talking lately/Don't you call him what you used to call me," just seconds after a brief snippet of dialogue from Rowe herself from a phone call she took while he was in the room. The song itself has a much sadder tone to it than any previous tracks, reflecting the fact that Styles wrote it during a self-admitted time in which he was feeling "not great." The song closes on with another snippet of dialogue from Rowe, with her last remark being her calling Styles's name.  
Track 6: "Falling"
From one ballad to the next, the next track, "Falling" stays much in line with the theme of heartbreak from "Cherry." The song features primarily piano, making it one of the more stripped-down songs of Fine Line; this only adds to the emotional quality of it. Styles carries over the theme of brutal honesty from "Cherry," too, asking "What am I now?/What if I'm someone I don't want around?" The song features another direct reference to Styles's relationship with Rowe when he sings about the Beachwood Cafe in Los Angeles, a place that both he and Rowe admitted to frequenting often. The melancholy air of the song is capped off by a recurrence of Styles's powerful vocals, certain to put the listener in their feels.
Track 7: "To Be So Lonely"
While tone-wise, this track is a strong deviation away from the two heart-wrenchers before, "To Be So Lonely" still carries much of honesty found in the previous tracks, even bringing in an edge of self-deprecation. The pre-chorus has Styles admitting his arrogance and issues with apologizing, while the second verse has him asking "Do you think it's easy being of the jealous kind?" Instrumentally, this is one of the more unique songs, with guitars, strings, bass, and even a guitalele—a guitar-ukulele combination—blending with one another to tie the track together, providing a bouncy backing for Styles's soft vocals. 
Track 8: "She"
In "She," Styles once again gets honest with his listeners, this time confessing to his inability to find anyone who fits the bill for the ideal significant other he's created in his head. The first half of the song is primarily Styles's vocals, now adopting a sort of croon to them, with the instrumentals sporadically punctuated by reverberating guitar and piano notes. The second half of the song features nothing but a sweeping guitar solo, lasting for over two minutes. Much of the song has a sort of mellow, hazy vibe to it, likely added to by the fact that it was written when Styles and his recording team were all under the influence of mushrooms. "When I've been doing the track listing, and ticking off the ones to definitely make the album, ["She"] always in the first three to be ticked," Styles said in an interview with Rolling Stone. "That's a phenomenal song."
Track 9: "Sunflower, Vol. 6"
With "Sunflower, Vol. 6," Styles brings out another jaunty, lighthearted track, harkening back to the first few tracks. The song is shot through with bright chords, layering harmonies, and even a brief solo midway through the song. Though the lyrics have a characteristic degree of crypticness to them, they are much more cheery than those of, say, "Cherry" or "Falling"; in it, Styles seems to be thinking about the good times of a relationship, celebrating his love and adoration for his significant other. "I couldn't want you anymore," he sings. "Kiss in the kitchen like it's a dance floor." 
Track 10: "Canyon Moon"
With an instrumental very much reminiscent of "Carolina" from his first album, Styles takes more of a bittersweet turn on this track, reminiscing back to what he dubs "the canyon moon" — potentially referencing a honeymoon period of a relationship — before expressing a sentiment that almost reads like homesickness, with the phrase "I'm going home" being repeated throughout the refrain of the song. 
Track 11: "Treat People With Kindness"
The penultimate track to Fine Line takes much of a turn from the more sentimental, even sad tracks on the album, with the recurring message in it being to simply treat people with kindness. Styles's lyricism takes on a much more positive note on this track. "I've got a good feeling/I'm just takin' it all in," he sings, "Feeling good in my skin/I just keep on dancin'."
Track 12: "Fine Line"
In comparison with the closer on Styles's previous album — "From The Dining Table" — the albums eponymous track ends the album with a sweeping, instrument-ridden bang ("I love strings, I love horns, I love harmonies — so why don't we just put all of that in there?" Styles explained to Rolling Stone). In many ways, the track summarizes the entirety of the album, which swings from discussing the highs of life ("Golden," "Watermelon Sugar") to its pitfalls and lows ("Cherry," "Falling"); this track does very much the same, touching on both the highs and lows of life and love ("You've got my devotion/But man, I can hate you sometimes" Styles sings), as well as stressing the need for a balance between the two. "We'll be a fine line," Styles sings as the track and the album itself draws to a close in a flashbang of strings, horns, harmonies, and piano, overwhelming and yet powerful at the same time, further typifying the album itself. "We'll be alright."
Leave a Comment
About the Contributor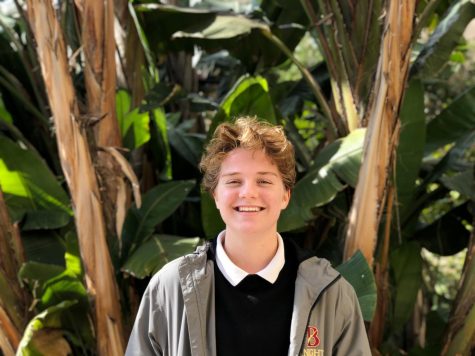 Daniel White, Former Editor-in-Chief
Daniel White is a senior and Editor-in-Chief, returning to The Tower for his third year. Aside from spending copious amounts of time getting very stressed...