A Spectrum of Voices
Spectrum has bright colors and shines light on important topics, but it's a dark horse of a Bishop's publication. 
Spectrum is the first student-run diversity publication on campus. It was started last year by Crystal Wang ('19), who also served as Editor-in-Chief. On October 18, 2018, Spectrum made its debut statement: "We understand that 'diversity' can be a buzzword, an attention-getter, an obligation. Often, it's only discussed by those already considered "diverse," people with similar opinions who find empowerment in shared experiences. However, we also hope that people listen– either to feel seen or to learn about experiences outside themselves." 
Last year, Spectrum published ten issues. Some notable issues included My Label by Anya Adjroud ('20) about her identity as a child of Algerian immigrants, "Allowed to Fail": The Burden of Representation by Crystal about Asian media representation, and The Culture of Ignorance by Maya Buckley ('22), about the importance stepping outside of one's comfortable bubble. 
This year, the Spectrum team has six returning members: Maya Buckley, Zenzele Greene ('22), Kyle Berlage ('22), Daniel White ('21), Lucie Edwards ('21), Alex Cotton ('21), and Kira Tran ('20), as well as three new members: Maddie Ishayik ('23), Neal Mehta ('21), and Jasmine Dabbas ('21).  Under the joint editorship of Zenzele, Daniel, and Maya, they have published two issues so far. The first issue, which came out on October 15, was Top 6 Queer Songs: An Exploration of Queer Representation in the Music Industry by Zenzele. She introduced her playlist, "After years of the topic [of sexual orientation] being seen as taboo or disgraceful, I am here to introduce the conversation about the representation of the LGBTQIA+ community in music and why we need more of it." The songs on her playlist were "I'm Coming Out" by Diana Ross, "JUNKY" by BROCKHAMPTON, "girls" by girl in red, "HEAVEN" by Troye Sivan, "Neverland" by Holland, and "they/them" by atlas (feat. jhfly). Zenzele followed each song with some background on the artist and analysis of the lyrics. 
Spectrum's second issue was The Official Holiday Guide: Queer Edition by guest writer Daniel (they chose not to include their last name in the byline) and came out on December 3. They stated in their article, "The holidays can also present a unique set of challenges for many LGBTQ+ people. They can put LGBTQ+ people in uncomfortable situations. Keeping that in mind, I've put together a nice list of life hacks and survival tips for queer individuals during the blessed holiday season." Daniel provided 10 suggestions including "Hang out with pets," "Remember that someone being family is not an excuse for them to make insensitive or hateful comments," and "Reach out to your support network," each accompanied by specific examples and additional advice. Daniel spoke about their writing process: "I was inspired a lot by my own family situation surrounding the holidays and how that can be uncomfortable for me sometimes, especially because I'm around people who aren't the most validating at times. So I just drew a lot from my own experience as well as experiences I know other people like my friends have had or will have with similar family situations."
Readers only see the beautiful end-product of Spectrum's hard work. But what goes on behind the scenes? 
To decide what each issue will cover, each staff member will bring their ideas to the table and share them with the group. The staff will then narrow down the large list of topics and decide who is best fit to write for the designated topic, or if people are dedicated to their ideas, they will write about their own pitch as long as they have the team's approval. "We like to be very open to new ideas and articles being published," said Neal. Lately, the staff has been trying out a system of scheduling writers for designated dates to avoid last-minute scrambles to write articles. 
The author will have about four to five days to finish their article. At the following meeting, the author will revise and refine their article with the help of around three other people. Kira noted, "Kyle is our resident grammar editor."
Once the article is polished, Kira or Kyle will lay out the article in Pages or InDesign– their respective apps of preference– adding Spectrum's colorful aesthetic for a finished product. Kira exclaimed, "I love doing layout and formatting! It was super satisfying when I first made the template and tinkered around with colors and font styles." Finally, the issue is ready for publication! 
Certainly, challenges are a part of this publication that covers such important– and often loaded– topics. Kyle explains that a difficult part of the job is "navigating what information we should publish if we are going to comment on an ongoing affair at Bishop's, or deciding the name we should publish for people either in the closet or feeling insecure about their name being a part of the publication." Neal also acknowledges, "Since we are a very diverse group of students and we all have our own opinions, it can be difficult to unanimously agree on one topic or another." Zenzele finds that her challenge is "finding a way to bring it back [those topics] to Bishop's."
But for all the hard work, writing for Spectrum is equally gratifying. For Kyle, the most rewarding aspect is "being able to spread ideas and tell stories that don't get much attention if we weren't publishing about them," and for Zenzele, it is "definitely the family we've built within it." Neal reflected, "I realized how special this publication is. It allows you to embrace who you truly are and connect with people who are different from you."
Send Spectrum a subscription request to their email [email protected]!
Leave a Comment
About the Contributor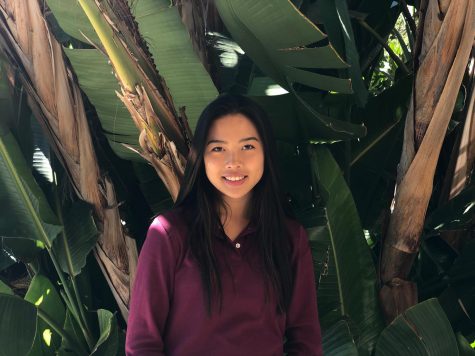 Carly Phoon, Graphics Editor - Print
Carly Phoon joined The Tower her junior year and unexpectedly found her niche in graphics and layout. In her rare free time, she enjoys working at a vet...