Admissions Assistants: A Look Into Head Ambassadors
You might've seen them around campus giving tours or leading discussion panels, or maybe you haven't heard of them at all. But it is undeniable that the student group Head Ambassadors serves an integral role on campus, even if it is one unbeknownst to some. 
Head Ambassadors is a collection of students involved heavily in the admissions process at Bishop's. Unlike other notable student groups on campus, like Peer Support or Rady's Club, who spend the majority of their time interacting directly with the student body through drives or events, Head Ambassadors' primary focus is on prospective ones who are not yet enrolled. In the words of the Bishop's website, "Our Head Ambassadors are some of the first people you will meet whenever you visit our campus. They will welcome you to the community and share their diverse experiences." 
As of this year, the group is comprised of 26 members: 12 seniors, seven juniors, and four sophomores The group's official faculty head is Associate Director of Admissions Mr. Francis Donald. Associate Director of Admissions Ms. Lauren Ghishnan and Director of Admissions and Financial Aid Ms. Kim Cooper also attend all meetings.
The Head Ambassadors team acts like Admissions assistants. Though that sounds relatively uncomplicated, the group's list of potential jobs is far more extensive than one might imagine. During the first semester especially, the group has a lot to work on, as November coincides directly with Open House. At Open House, Head Ambassadors can be expected to perform any given number of tasks,  
The group is important for a number of reasons. For prospective families, for one, the group is especially important because it gives parents and potential future students the benefit of an honest student perspective. The Ambassadors have the unique job of striking a balance between being a cheerleader for the school while still maintaining an honest perspective on it. "I think the Head Ambassadors program is important because it brings the prospective students into the admissions process, which allows both them and their parents to truly understand the Bishop's experience," senior Kirra McColl explained. "And I like the program for the same reason, too."
As well as being an important resource for prospective families, Head Ambassadors is important for the students involved in it. Parviz Henderson ('20) said he "became an Ambassador as a sophomore because I wanted to contribute to the amazing application process experience I had." Another senior member, Elizabeth Stuart-Chaffoo, furthered this perspective. "As a freshman, I was timid and afraid and hated public speaking, but Bishop's has helped me grow immensely, so I now feel comfortable with my public speaking skills," she explained. "Now I look forward to admissions events and when I get to speak on behalf of our school. The Head Ambassadors program is the best group to represent the many diverse perspectives and experiences that we have here on the Bishop's campus." 
At its core, Head Ambassadors is a key facet of Bishop's life for the students involved many of whom say the group gives the opportunity to give back to Bishop's, in a way. "I have come to love Bishop's as it has facilitated the student-athlete-musician that I am," Parviz said. "So I give back to my community by representing it."

Leave a Comment
About the Contributor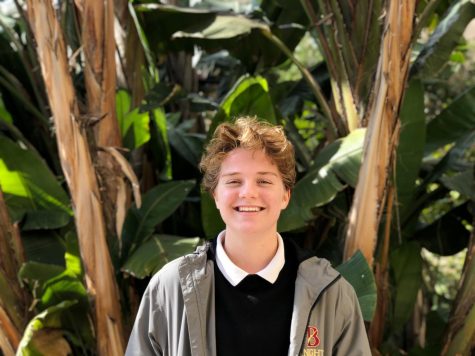 Daniel White, Former Editor-in-Chief
Daniel White is a senior and Editor-in-Chief, returning to The Tower for his third year. Aside from spending copious amounts of time getting very stressed...