The Student-Alumni Club: Fostering Connections Between Past and Present
Elise Trouw ('17), a singer and musician who performed on the Jimmy Kimmel Live!; Pancho Barnes (1910s), one of the first female aviators; Roy Perkins ('08), a two-time Paralympic gold-medalist swimmer; Colin Walsh ('07), a Major League Baseball Player; Melissa Winter ('84), Michelle Obama's Deputy Chief of Staff for First Lady. The common feature of these people?— they're all Bishop's alumni. 
Throughout the school's 110 years as an institution, it has produced thousands of alumni working in every field imaginable. Once students graduate from college and go into the workforce, these critical connections with other graduates can help them to get internships and preliminary jobs. The mission of the Bishop's Student-Alumni Club—according to co-leader Carina Freundt ('20)—is to prevent graduates from becoming cut-off from the school after they leave. She explained that they aim to "foster connections between past and present Bishop's students and to make Bishop's alumni feel welcome when they are on campus." The club strives to strengthen links by bringing alumni back to describe their careers to current students, opening up a channel of communication between these teenagers and alumni who were once in their position.
Carina and Claire Nelson ('20)—the other co-leader of the club—established the idea in their Honors Economics: Entrepreneurship class towards the end of their junior year (2019). Initially, according to Claire, it was an app—"an online portal for students to seek potential advice, reflective experiences, and professional internships from Bishop's graduates," she described. While the actual app never went into effect because it was the end of the year, Claire and Carina expanded their class's idea on their own into a club. They created an Instagram account (@tbs.studentalumniclub), sent out a school-wide email, came out to club fair day with a sign-up sheet, and the club was formed. They meet once a cycle to brainstorm ideas and plan events. "We've seen real change," Claire explained. Last year, the Alumni Relations Office ran the alumni panels, which consisted of lectures. However, this year, the Student-Alumni Club was able to dedicate their time to the event, so they converted it to a series of round table discussions. Students can sit at the table of the career that interests them most—whether it be architecture, biotechnology, finance, graphic design, medicine, law, sociology, investment, or mental health while enjoying pizza and an in-depth conversation. 
They helped the alumni office to organize the biggest alumni event of the year: Alumni Weekend, also known as Reunion Weekend. This year, it took place from October 11 to October 13, and involved people for class graduation years ending in 4 and 9, so as to not overwhelm the campus with an explosion of people. The Bishop's website called it "a time to celebrate… with family, classmates, friends, retirees, faculty, and staff," explaining that it involved "classroom visits, campus tours, the kickoff party, milk break, chapel service, class reunion parties and more. Everyone enjoyed being back on campus to remember the days of…senior rec room, uniform violations, T-Day, advisory and more."
The Student-Alumni Club tries to ensure that Bishop's students remain connected to Bishop's even after they graduate. Through their club meetings, social media, and alumni panels, they spread awareness about the value of alumni connections, creating a communication network to give more opportunities to graduates and current students.
Leave a Comment
About the Contributor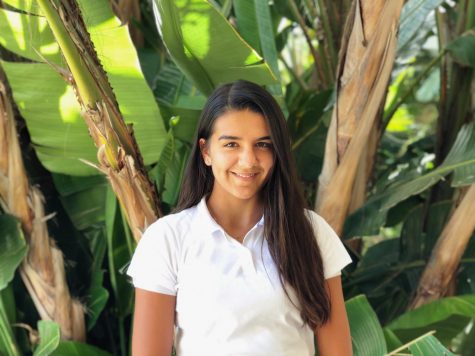 Clare Malhotra, Editor-in-Chief
Clare Malhotra was born in Boston, Massachusetts and moved to La Jolla at age nine. She is currently a senior, and this is her third year on The Tower....