The Scoop on Yasha Kharrati
It's no secret that modern politics can be difficult to understand. From bizarre procedural nuances surrounding the impeachment inquiry, to contradictions like the National Oceanic and Atmospheric Administration saying mako sharks can be fished sustainably despite the United Nations designating them critically endangered, it can seem like politics are not made for the average person to comprehend. In fact, a Pew Research Center poll reported in June that 70 percent of the over 10,000 American adults interviewed felt confused by political rhetoric in the United States. This is a problem that senior Yasha Kharrati is dedicated to solving.
Yasha started his YouTube channel, Election Scoop, in June 2017 to help spread awareness about the U.S. political climate and to serve as an informative guide for voters, especially first-timers. "The plain truth is that between non-registered voters and registered non-voters, two-thirds of American adults don't vote," he shared. "Knowing that me and people my age would be voting soon, I wanted to create a forum to give people the information they need to make an educated decision about the candidates and elections."
As posted on Election Scoop's 'About' page, the channel's goal is, "to provide independent, unbiased reporting and analysis of the American Electoral System. Every US Citizen has a duty to be informed and become aware of their nation's democratic decision making."
Yasha produces an array of content related to American elections, such as his breakdown of the different candidates' policies, reflections on historical elections, or 2020 election predictions—his personal favorite to make. In the near future, he also hopes to look at political nuances in individual states. "I look forward to analyzing each state one by one and seeing where Democratic candidates can improve on [the 2016 election]," he said.
This summer, Yasha filmed a video in which he had a special surprise guest: New Jersey Senator and 2020 Presidential Candidate Cory Booker. "I was touring small liberal arts colleges in the northeast and New Hampshire—that's one of the early primary states, which means that candidates are always around to visit," he explained. "We heard about Sen. Booker's appearance in Nashua and we rushed to meet him." At the end of the video, Sen. Booker shared a message to Election scoop viewers: "I hope the scoop in the future is my nomination and eventual victory as President, but whatever it is, keep following Election Scoop and get the scoop!"
As of December 8, Election Scoop has attracted over 5000 views. Yasha hopes that his viewers feel empowered and educated as voters and take their responsibility seriously. "Voting is a dynamic, important, and civic duty that we in America are privileged to have, as opposed to a single-party dictatorship like in many parts of the world. We must cherish that responsibility, or else we will lose it," he said.
Visit Election Scoop on YouTube to watch Yasha's videos.
Leave a Comment
About the Contributor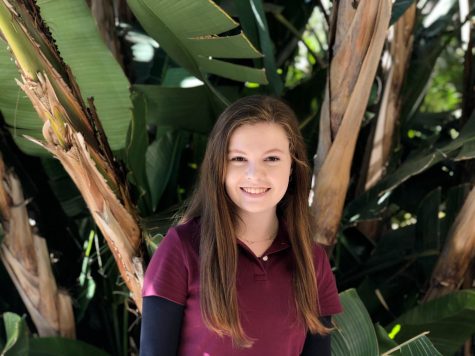 Amy Carlyle, Editor-in-Chief
Amy Carlyle is a senior and Editor-in-Chief of The Tower. She came to Bishop's as a sixth grader and joined the staff at the start of her freshman year....