Unite and Conquer: The Importance of Affinity Groups on Campus
When you think of the term 'affinity group,' a lot of things can come to mind. Maybe a vague sense of recognition. Maybe you've heard of them, seen your friends go to the meetings or read the emails the various groups might've sent out, but don't know what they actually do. Or maybe you're well-versed with the ins and outs of affinity groups and consider them an important aspect of your experience on campus. Regardless of your association, one thing is clear: affinity groups are a key part of the Bishop's community. 
An affinity group is a collection of people brought together by similar identities or interests. These groups can be formed by commonalities such as religion, sexuality, race, or other factors. At Bishop's, affinity groups use these commonalities to come together and discuss issues in the world, on campus, and in their personal lives. 
Bishop's is home to eight affinity groups. There are six traditional affinity groups and two religious affinity groups. The traditional groups are Black Student Union (BSU), Latin American Student Organization (LASO), Middle Eastern Student Association (MESA), Asian American Student Association (AASA), Multiracial Student Group (MSG), and Bishop's Alliance for Queers and Non-Queers (BAQN). The religious groups are the Jewish Student Association (JSA) and the Muslim Student Association (MSA).  
Students who attend these groups find that the meetings are an important part of their time on campus. One of the leaders of BAQN, Sean Kim ('21), described affinity groups as "a crucial part of the student experience," emphasizing the different roles that these meetings play in students' lives. Students join affinity groups for a multitude of reasons: to have a place to talk through problems, to have meaningful discussions, or even just to make new friends. 
"Affinity groups give everyone a sense of belonging."

– Sean Kim ('21)
The discussions that take place in these meetings center around issues on and off-campus. For example, MESA has discussed representation in the media and encourages members to share their unique childhood experiences. BSU co-leader Ki Greene ('20) said that the "diversity of the individuals in an affinity group" makes the discussions and the meetings more interesting. Ki stressed the importance of varying opinions, saying that they "have opened my eyes to how different everyone's perspectives on life are." 
These different perspectives can cause students to feel alone in their positions. Affinity groups provide a place for students in minority groups to feel at home on campus. MESA leader Jasmine Dabbas ('21) has found that relating to students like her has enhanced her time in the Bishops community. 
While some members join these groups as a way to learn more about themselves, others join to learn more about Bishop's itself. Sydney Gerlach ('20) feels that these meetings altered her view of Bishop's, saying "I was shown the ways in which our school could be more inclusive." Ki echoes this sentiment and thinks that "each and every one of them has been a crucial part in shaping my outlook on not only Bishop's but our society." 
"When you're in the minority, especially at Bishop's, it can be hard to find spaces where you feel comfortable sharing your experiences."

– Sierra Martin ('20)
Many members of affinity groups identify with a certain qualifier, but any students can go to an affinity group meeting, even ones they are not a part of. They are able to understand more about problems people face on and off-campus and learn more about the mini-communities within our school community. BAQN co-leader Sierra Martin ('20) also attends JSA meetings and, while she is not Jewish, she finds the discussions interesting and informative, and encourages others to check out groups that they do not identify with.
There are many reasons why affinity groups are important for schools to have. They help students meet new people, discuss issues that they care about, and offer a safe space for students to express themselves. Sydney points out that these groups "help create micro-communities within the larger school community," effectively breaking up the study body into manageable groups to find people who have similar interests. This can help new students make friends and feel included on an unfamiliar campus. 
When asked what affinity groups mean to them, students across the board agreed that these groups represent one thing: safe spaces. Martin described affinity groups as a "safe haven," and remarked that "as charged as the term 'safe space' is, I think it's really fitting." BSU co-leader Courtney Anderson ('20) called the group's meetings "a space where people can feel comfortable being themselves."
Affinity groups help foster understanding in the Bishop's community. They provide an outlet for all students to engage in real-world discussions, meet new people, and– most importantly– feel welcomed.
Leave a Comment
About the Contributor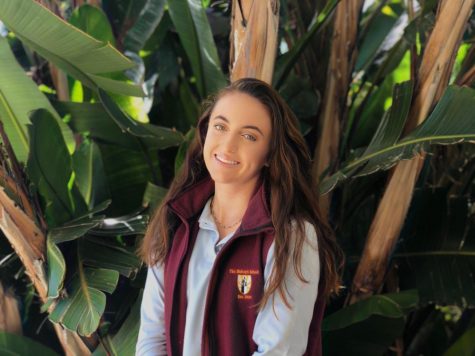 Lucie Edwards, Graphics Editor - Print
Lucie Edwards joined The Tower near the beginning of her sophomore year, where she developed a love for graphic design and layout. In her free time, she...