In the Spotlight: Gabe Worstell
Gabe Worstell ('20) can do it all: dance, sing, act – he is quite literally the definition of a triple threat. He is the only upper schooler involved in Performing Dance Group (PDG), Bishop's Singers, and Acting Workshop (AW), a feat few have accomplished since the school's establishment. These groups all require extensive auditions and are some of the most exclusive performing arts groups on campus. However, Gabe didn't anticipate how involved he would become in performing arts until he stepped on the stage his freshman year.
As an underclassman, Gabe had no familiarity with theater. In fact, he thought he wanted to pursue a Bishop's career in the visual arts. It was only until his first Bishop's production of the musical In the Heights that he fully realized his potential. "I loved the feeling of being on stage, and now it's consistently been the one thing I feel that I'm really good at," he said. In the Heights opened many doors for Gabe; since being a dazed freshman in the cast, he has practically grown up inside the theater. Now that he is a senior, he leads all three of the advanced performing arts classes—PDG, Bishop's Singers, and AW—with confidence. Gabe explained, "I definitely feel there is a responsibility to set an example for the kids who are in the classes for the time." He especially feels this pressure in AW, because of the large group of new sophomores. For each improvisational exercise in class, he commits himself 100%, explaining that he knows what you put into the class is exactly what you get out. Having learned from past experience, Gabe tries his hardest to cultivate an environment of camaraderie especially unique to AW through group bonding exercises and embracing the new underclassmen.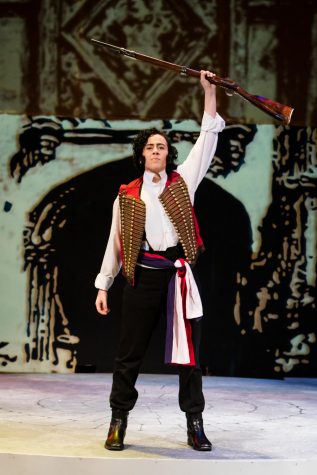 Gabe is also a veteran to PDG, as he joined the group when he was a sophomore. He's now learned what to expect during busy tech weeks for productions such as Narnia, the winter dance show. "I'll work on what I can during my free time, but when I'm on stage, I am plugged-in and making sure I am present in the moment," he said. 
As a senior, Gabe's responsibility doesn't just end at being a leader in his classes—he is also in the midst of submitting college applications. "I'm applying to a bunch of acting BFAs (Bachelor in Fine Arts) and musical theater programs all over the country, so I have to take everything one deadline at a time." It seems this strategy has worked well for Gabe thus far, as he just finished the fall play, She Kills Monsters, and PDG show, Narnia, and is now preparing for the school productions of A Few Good Men and Twelfth Night. "I'm really excited to do A Few Good Men because it's one of my favorite movies," he said, "and seeing that performance and knowing that's what's in my future is really cool." 
Though Gabe is really excited about the next stage in his life, he also reminisces frequently about his time at Bishop's and the past productions he has been in. "I liked being in Les Mis so much," he shared, referencing his lead role as Enroljas in Bishop's 2019 production of the musical Les Misérables. "Getting to sing such an iconic song and wear such an iconic costume was so cool—the whole show was pretty ambitious, but it came together so well." However, Gabe mused that sometimes the more personal shows are equally satisfactory, which was true of the 2019 AW show, Government Inspector. "The  show took a really long time for us to get it together, but when we got it on its feet, hearing the laughter from the audience was really rewarding—the whole experience is something I will treasure forever." 
All in all, Gabe will have a lasting legacy at Bishop's, and his artistic promise follows him long into adulthood.
View Comments (1)
About the Contributor
Maya Buckley, Social Media Manager
Maya Buckley is a junior and The Tower's Social Media Manager. When she is not crying about her latest chemistry quiz, she enjoys singing in Bishop's...