The Revival of EVA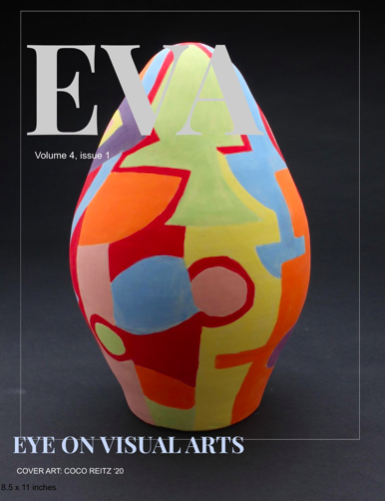 This year, the Visual Arts department has revived the Eye on Visual Arts (EVA) publication. They are publishing photographs of a wide variety of visual arts, including drawing, painting, mixed media, and 3-D art.
Three years ago, the EVA publication began as a collaboration project from the Eye on Visual Arts parent group and the upper school Art Club. Head of the Art Department Ms. Elizabeth Wespic recalled several seniors' passion around the publication at the time and being asked about her summer vacation for the first edition. After those students graduated, there was one student who kept EVA running for another year, but keeping a publication alive was a difficult one-man job. Last year, EVA took a hiatus. 
Unexpectedly, Anna Poon ('21) and Annie Fang ('22) approached Ms. Wepsic with a desire to revive EVA at the end of last school year. At the same time, Eric Pan ('21) and Ellie Hodges ('22) voiced their aspirations in a meeting with Ms. Wepsic to make the visual arts more accessible to the school community.  The four of them decided to join forces and head the EVA publication. 
The EVA team has regular lunch meetings to plan campus-wide exhibitions and organize submissions for the publication. They've also joined department meetings to organize school events and communicate with faculty. Ms. Wepsic defines her responsibilities as behind-the-scenes work and supporting the students' endeavors: "I'm in the non-creative role, sort of the business and admin side of it.  I am a 'doer,' so I have been helpful at keeping them on track, setting deadlines with them, and helping to encourage participation." She helps put together the publication with Adobe Illustrator, manages costs, editing, and distribution. 
EVA is having a glo-up, so to speak. "The upcoming edition will feature a poster of student art and will be light on any articles or writing…  The form will be folded, not bound, and may even be an odd size," says Ms. Wepsic. The EVA team is pushing boundaries with the print design –they want EVA to be notable and unique from other publications on campus.
And this time, EVA is here to stay. Ms. Wepsic says, "Moving forward, I am going to actively foster the next generation of EVA students so the publication will not die out when students graduate. I'm already talking to middle schoolers about this."
Anna, Eric, and Ellie spoke about their views on arts and EVA on campus.
Why do you think it's important for arts to be represented on campus?
Ellie: I think whether you're someone who likes making art or not, creativity is a vital part of our lives. With the stress and conformity of academics at times, we need something to express ourselves. For some people that's writing, performing, dancing, or painting. When students make art, they are sending a message, and we need to listen to it.
Eric: Arts, to me, are at the center of the humanities. Obviously the definition of what constitutes "art" can be varied and vague, but at its core, it is a form of communication… School is about a lot more than just accumulating knowledge, so I think that the presence of art on campus is very important in regards to forming a community of individuals, rather than simply students.
Why did you want to take a leadership role in EVA?
Anna: I've wanted to bring back the publication for a while, and I'm really excited to help design it this year. I'm also looking forward to planning exhibitions.
Ellie: I'm not exactly the kind of person that has been painting since I was 3, and when I came to Bishop's I felt incredibly insecure about that. After meeting Ms. Wepsic and taking art classes here, this community has become a second home to me… I saw how accessible other arts were at Bishop's, and I think it's about time for this department to make that transition too.
Eric: The presence of visual arts on campus, for most students not enrolled in a visual arts course, is mostly limited to the senior exhibition in the library. My goal is to create more visibility around the visual arts on campus so that more students are encouraged to participate aside from simply fulfilling arts requirements.
In bringing EVA back to campus, is there going to be anything different about it?
Eric: Our goal for the publication is to have it focus exclusively on student artwork rather than both articles as well as artwork. Think of it as less of a publication and more of a portable gallery. 
Anna: Previously, EVA publications included a lot of writing about general art developments. Now, we're trying to use the publication as a way to bring awareness to the visual arts community on campus by showcasing student work. 
Ellie: I think this year students are really passionate to make EVA as visible as possible. I was so surprised by the amount of interest we've seen already across campus, and I think it shows that Bishop's is really ready to make a change… I hope that if people are interested, they aren't scared to reach out and make that change happen!
Leave a Comment
About the Contributor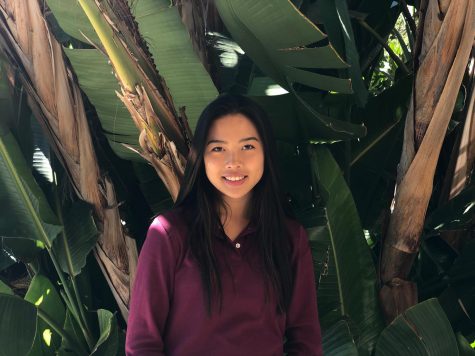 Carly Phoon, Graphics Editor - Print
Carly Phoon joined The Tower her junior year and unexpectedly found her niche in graphics and layout. In her rare free time, she enjoys working at a vet...