Elise Trouw on a Major Scale
Elise Trouw was the cool, fearless drummer on stage. Off the stage, she was the quiet girl. She was always the music girl. Then, she was the gone girl– senior year came, the rest of the Class of 2017 couldn't wait to don caps and gowns in nine months, and Elise was nowhere to be found on the Bishop's campus.
It's two years later, and Elise has released an album, gone on two national tours, reached 17 million total views on her Youtube channel and 643K followers on Instagram, and performed at countless venues, including Jimmy Kimmel! Live!
Needless to say, 19-year-old Elise Trouw hasn't followed a conventional path. She's defied boundaries and ventured far, far out of her comfort zone. And there, she's found her career.
Bishop's sparked Elise's illustrious career. She came to Bishop's in 7th grade and eagerly joined the middle school orchestra. From then on, music defined her Bishop's experience. Elise fondly remembers the community jazz band with Orchestra Director Vladimir Goltsman and science teacher Ben Heldt. At the time, she was mainly playing rock music, so the jazz band opened up a new genre of music for her. Elise says, "Being in the jazz band influenced my style of playing and style of writing."
During her high school years, the horizon became foggy; Elise started to question if the conventional path of college would be right for her, especially after she got a record label in San Diego and became more involved with her online presence. She started to develop her own style and quickly gained notoriety. By junior year, the fog had cleared, and Elise looked down the path meant for her. It was rocky, uncertain, untraveled by her peers. It did not lead to college. 
It was scary to take that first step on uncharted territory. And scary to take the second, third, fourth, until Elise became more and more sure of herself. She made the difficult decision to graduate a year early from Bishop's to pursue her growing success in the music industry. "Having support from my parents and the school helped me make the decision to do that. It think it was a no-brainer for me, just because I knew I wanted to pursue music, and going to college didn't seem like the right fit," she explains. Simply put, music has always been Elise's passion. "I didn't play sports. I've never thought about pursuing anything else. It just seemed like a very instinctive thing for me to do."
Two trying years later, Elise is crossing a bridge– the critical point where she looks back at the path she's taken with pride and understands, I really am doing this. It's the point in her career where she regularly works with highly successful people further along in their careers than she is. Elise conveys, "Having those opportunities is very rewarding. It's what I really do this for– being able to learn and improve and seeing myself get better."
Elise's YouTube channel embodies the evolution of her artistry over the years. She released a "Live Looping" video on November 26, 2017 and another on January 4, 2018. Both videos went viral, now at 2.8 million and 5.5 million views respectively (and the latter catching the eye of Jimmy Kimmel, earning her a place on his stage on February 8, 2018). 
What exactly is Live Looping? Elise effortlessly layers vocals over keyboard over electric guitar over bass (a feat for any musician). Her movement around the space, from instrument to instrument, is easy, like writing cursive. Oh, by the way, this is live. 
Clearly, Elise has an abundance of talent. But she also knows how to market that talent– a coveted duality in the music industry. She sets herself apart from the rest in every aspect, from her musical expression to her intensity. 
First, there is absolutely no artist like Elise Trouw: Her synthesis of alternative pop and jazz, a subtle retro vibe, all wrapped up in a certain effortlessness.
But the task of shaping her artistry has been anything but effortless. There is always a team behind a big artist, and Elise herself is no different. "For a long time, it was just me, and my parents helping out here and there. Now, I'm working with an agency, a manager, an attorney…"
However, most artists have only a slight hand in details like visuals, choosing to focus only on music. Elise takes initiative with every step of the creative work behind her music. She even runs her own social media, which is especially rare for an artist. She discloses, "I'm very hands on with my career. I do the writing, the recording, the live shows, I design my art T-shirts. I'm interested in music and the whole art form around it; it's very interesting to me. Yeah, it's a bit unusual for an artist to be that involved."
Elise Trouw exudes confidence. But she reveals, "I've definitely had moments of doubt, even at the beginning. Growing up, I was very shy and introverted, so anything that involved putting myself out there was definitely something I had to overcome." Nerves were a constant battle, no matter how small or large the crowd was. "Performing enough times helped me get over that, and helped teach me that it is possible to get over things that you're afraid of. Hurdles are part of the fun."
Reflecting on her ultimate hurdle –making the decision to graduate from Bishop's early and forgo college– Elise affirms, "I don't think college is the wrong choice. It's just a different choice for everybody. I think the biggest thing is really listening to yourself and knowing honestly what you love to do." 
While finding her place in a cutthroat industry, Elise has found value in self-assurance. "Don't assume that anybody knows better than you. In the music industry, there's a lot of uncertainty, and people pretending like they know better than you, especially older people. Just be certain in yourself and know that just because people are older, doesn't mean they have it figured out," she emphasizes.
Therefore, Elise Trouw is creating her own path. She was the quiet girl, the gone girl, the music girl. She is still the cool, fearless drummer on stage. She is the girl who defied boundaries and ventured far, far out of her comfort zone. She is the girl who gives effortless performances with every ounce of effort. Elise Trouw hasn't followed the conventional Bishop's path, but she has made Bishop's proud.
Leave a Comment
About the Contributor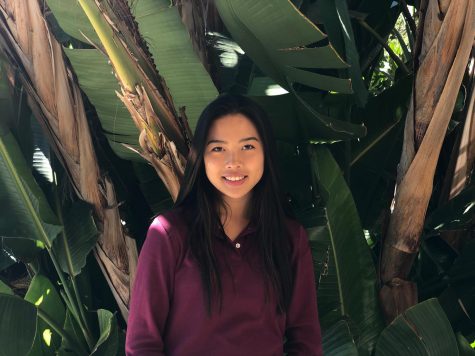 Carly Phoon, Graphics Editor - Print
Carly Phoon joined The Tower her junior year and unexpectedly found her niche in graphics and layout. In her rare free time, she enjoys working at a vet...