The Race for Presidency: A Play-by-Play
On April 23, upper schoolers rapidly filled the gym. Typically, announcements were correlated with grumbles and bleary eyes, but that day, the crowd was enthusiastic. The nervous energy came from the row of juniors sitting in front of the crowd– the six candidates running for 2019-2020 ASBC President. Each candidate had three minutes to make a compelling speech.
Noah Lin ('20) was the first to the podium. He called himself the "Goldilocks Candidate," referring to his mantra of moderation in all action: "I'm not so goofy that I can't get work done, but not so serious that I won't have fun." He demonstrated this fun side by entertaining the audience with a song (to the tune of Elvis Presley's "Can't Help Falling in Love"): "Wise men say vote for Noah Lin, 'cause he would make the best ASBC President." Appealing to the student body, he said, "I value the scholar, artist, athlete, introvert, social butterfly, successful, the struggling, hard worker, and the laid back, etc. because I see myself in them, and I hope you see yourself in me too." Lastly, Noah reflected on his prior experience in student leadership. "My time on ASBC has shown me that being a student leader and helping others voice their opinions and affect change is something that's very important to me.  I genuinely care about this school and the people in it."
Tommy Sottosanti ('20) followed Noah. He predicted that some students might be wary about his lack of experience in student government, to which he refuted, "No experience needed. Just look at the president of the United States." He promised to make changes to the phone policy, make the cafeteria lines more efficient, and send semester surveys for student feedback. "Many of you will be at this school long after I have left for college, meaning that my job is to implement the changes you want to see."
Lani Camuro ('20) emphasized community and communication. Humor was not her strategy, as she said, "not everyone is born funny" (which got some laughs). She instead emphasized inclusivity in her campaign, declaring, "It's my conviction that regardless of your skin color, sexual orientation, gender identity, background, or how you choose to spend your time, each and every one of you deserves representation in our community."
Annie Cramer ('20) was the only candidate who did not use a script, using her speech time as a performance to directly engage with the student body. She started her speech with laid-back confidence and brought her speech full circle with, "Presidency demands for leadership, diligence, kindness, a girl who is 5'10, has blond hair, blue eyes and happens to go by the name Annelise (A N N E L I S E) Royce Cramer."
Iraj Moradi ('20) had the mic next. He had the crowd laughing from the very first sentence, a faux-philosophical line, "Who am I?" He embraced his lack of experience in ASBC and boasted his ability to learn quickly. "I have a comprehensive 2 step plan that I will use to work at this position. Learn how to be ASBC president, then be ASBC president." He concluded, "In the end, I can't promise much, or anything at all. All I can promise is that I want to help the Bishop's Community, and give back to this amazing school after it has helped me for so many years."
Dylan Lödl ('20) was the last candidate of the day. Like Iraj, humor was the tactic of his campaign, but his speech covered a broad range of unique topics– which he seemingly grabbed from thin air– from bovec sheep to croquet. Some of the lines that got the most laughter were "About me: My favorite color is yellow, I participate in legal civilian activities, and after I die, I want to be buried in an upright position," and "Some questions I often hear as an up-and-coming politician is, 'Dylan, why should I elect you? What can you do for me?' Fair, but the question we should be asking here is, what can you do for me?" Dylan continued his speech over a minute past the allotted time, and was finally ushered to his seat by current ASBC President Gabe Thomas ('19), to thundering applause. 
There was a runoff between Noah and Dylan. On April 24, the online runoff polls opened at 3:30 p.m. and closed at 10:00 p.m. The results of the runoff were announced on April 25.  Noah Lin would be the 2019-2020 ASBC President!
Noah responded to winning the presidency, "I'm super stoked. It will be a great year, and I hope to really connect with the student body and get a lot done."
View Comments (3)
About the Contributor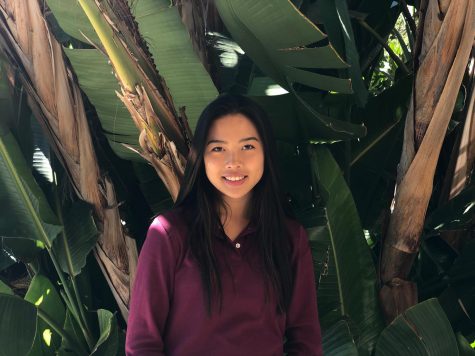 Carly Phoon, Graphics Editor - Print
Carly Phoon joined The Tower her junior year and unexpectedly found her niche in graphics and layout. In her rare free time, she enjoys working at a vet...