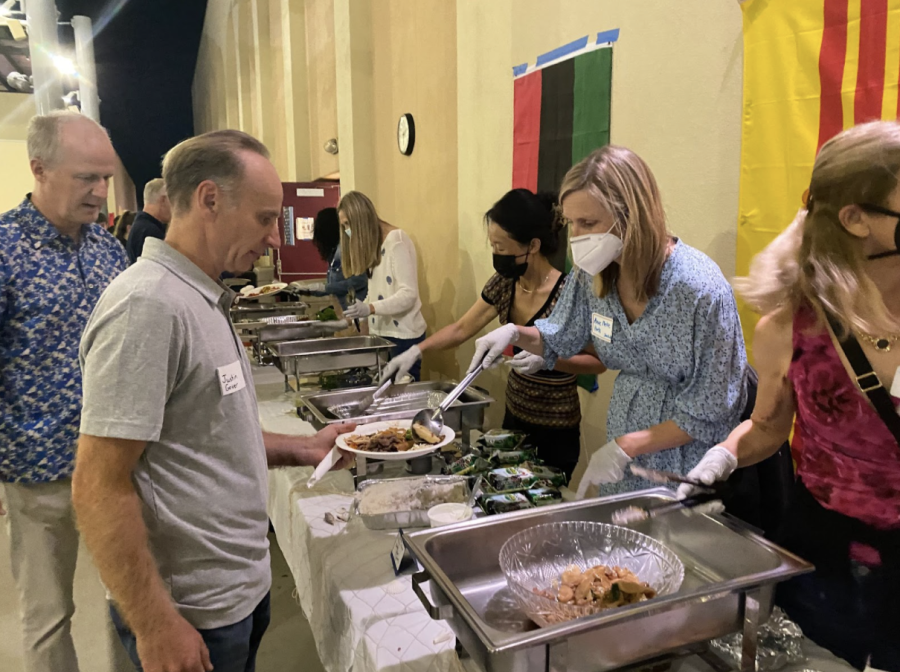 Spencer Ralph
On November 12th, 2021, many Bishop's families, faculty, and students gathered at the International Potluck Dinner.
The theme of this year's potluck is "Sail the Seven Seas with Global Education". One of the Performing Dance Group (PDG) performances also happened on the same night, with a similar theme of blue. These events combined provided ample opportunity for the Bishop's community to be conscious of our everyday actions. Almost all of the decor from the PDG show and this event were waste-conscious, and the International Potluck tried to bolster that theme as much as possible. "We suggested our guests bring their own refillable water bottles [for the potluck]," stated Ms. Srinya Barrett, Bishop's parent and one of the Co-Chairs of the dinner. "We went even further: instead of using fresh-cut flowers for our table centerpiece… we used recycled brown paper bags," she added. This innovative solution allowed for the centerpieces to be origami sailing boats. "It's a green party to help save the blue ocean," she concluded. 
During the event, the community enjoyed trying foods from a vast array of different regions and countries in the world. Some favorites, based off of how much food was taken, were lumpia (from the Philippines), empanadas (from Spain), and spanakopitas (from Greece).
One of the major highlights was religion and ethics teacher Dr. David Moseley's trivia game. "One thing that we will not change…is Dr. Moseley's legendary trivia quiz," exclaimed Ms. Barrett. It's a necessary and iconic game that has been taking place since Dr. Moseley started contributing to the event. During the Potluck there was also a raffle for the faculty and staff. As students, parents, and teachers laughed and talked throughout the night, they were accompanied by performances from the jazz band, instrumentalists from Melodies For Remedies, and a special Chinese dance.
Dr. Moseley first started working at Bishop's in 2006. "I remember going to it [back then] and there were maybe 60 or 70 people there," he said. Last time the dinner took place, in fall 2019, 220 people showed up, according to former Bishop's School Reverend, Ms. Mary Katherine. The increase in popularity was apparent on Friday as all the food was eaten relatively early; about 200 friends, family, faculty, and students showed up, according to the Co-Chairs of the event.
The Potluck looked a little different this year compared to the previous years because of certain COVID-19 protocols the school has in place. According to Ms. Barrett, some of these changes included the event being held outside on the cafeteria terrace. Another change to the procedure of previous years is the exclusive use of parent volunteers to serve food. The pandemic also altered the size of some of the events as things were "scaled-down" compared to previous years, according to Dr. Moseley.
Global Education (GEI) is the host of this event. According to Dr. Moseley, GEI is an initiative started by multiple teachers whose goal is to create a more globally aware and conscious community. "We started trying to make [the dinner] bigger, better, and more attractive," stated Dr. Moseley. "We would often do it in collaboration or on the same day as a play, dance performance, or orchestral concert so people could come and have a whole evening at Bishop's," he added.