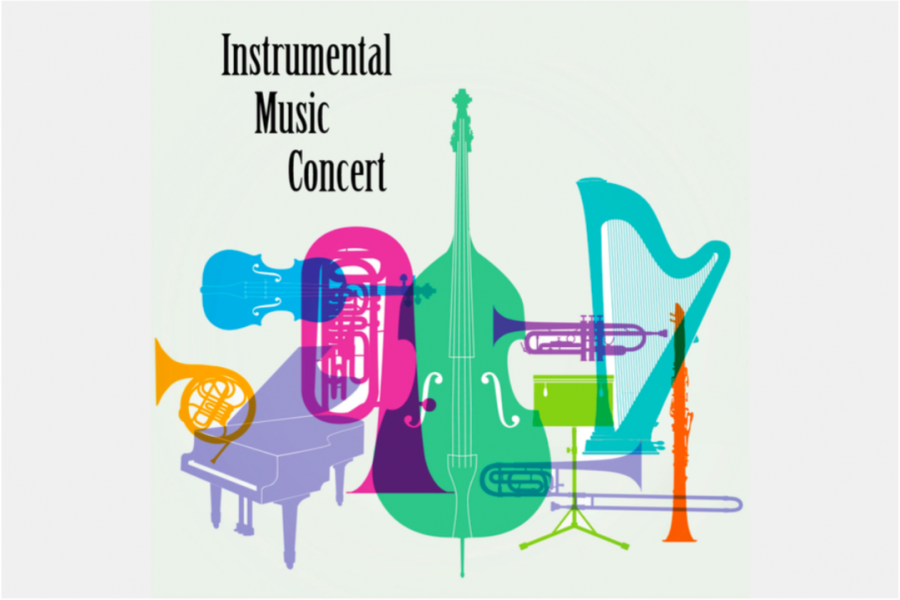 "Jazz is the musical equivalent of taking a test you didn't study for, except it's a group test, every question is free response, and somehow, no one else has studied either. The curve is gonna be high, so screw it, you might as well try something cool," said alto saxophone player Denis Li ('20).
At the very center of the Bishop's jazz program is improvisation and creative expression. "Jazz at Bishop's is very unique," said alto saxophone player Connor Schneider ('22). "Many other schools and programs don't give students the same opportunities to try their own ideas and styles that we get to exercise even in our concerts." Tenor saxophone player Greyson Davies ('22) said, "What I like about jazz is the creativeness. Unlike many other types of music, musicians are allowed to experiment and give each song their own little personal touch in jazz."
Because of this improvisation, every show is a little different. Bishop's beginner's Jazz I and advanced Jazz II played their second concert of the year on Friday, November 15 and Saturday, November 16 in the Taylor Performing Arts Center. 
They opened the show with an upbeat song called "Doxy" by Sonny Rollins. The stage lit with cyan and yellow, Jazz I left the audience in a cheerful disposition and eager for the rest of the show. The next song, "Bags Groove" by Milt Jackson, was a little slower but still delightful to listen to. The excitement picked up by the end of the Jazz I section: they closed with a song called "Pick Up the Pieces" by Roger Ball and Hamish Stuart, which can only be described as a psychedelic acid trip. Bass player Ayden Chang ('23) said, "It's just a really fun, funky song to play and the lights for that song were also really well done." The song's energy was matched by the lighting: lime green and an array of vibrant oranges and reds.
The next section was the performances by the Bishop's Jazz Singers. For the first song, "Turning Tables" by Adele, members from both the Bishop's Orchestra and Jazz Band came together in a string quartet. With the stage washed in a deep purple, Naomi Deokule ('21) superbly sang the difficult ballad. "This song had a wide vocal range," said Naomi, "The string quartet really brought the piece together."
Next, "It Could Happen to You" by Jimmy Van Heusen and Johnny Burke, gloriously sung by Sarah Delfino ('20), was a romantic and spunky song that remained stuck in audience members' heads for days to come.
The next song, "Stardust" by Hoagy Carmichael and Mitchell Parish was performed by the talented singer, Brett Garon ('21). He said, "it was such a fun song to sing. I loved the creative purple and blue lights." 
The final song in this section "If I Ain't Got You" by Alicia Keys was sung by the musically gifted Jazmine Joseph ('23). She said, "The song was meaningful because the message against materialism keeps things in perspective."
After a brief intermission, Jazz II entered the stage to perform a blend of the songs "On Green Dolphin Street" by Ned Washington and "So Danco Samba" by Antonio Carlos Jobim. In this section, cellist Natasha Mar's ('20) favorite song was "Beautiful Love." "I absolutely love the ballad style we played it with and the melody is so charming," she said. They closed this section with a calm song called "Bernie's Tune" by Gerry Mulligan. The stage was lit in pale yellow and light green. Audience member Helen Banta ('21) said, "'Bernie's Tune' was great! I loved the jokes they told before the song and the lights were fun."
The final section of the show was "Bishop's Big Band," where Jazz I and II joined together on the stage along with singers to perform a booming finale. The first song in this section, "I Can't Give You Anything But Love" by Jimmy McHugh and Dorothy Fields, was a crowd-pleaser. Trumpet player Blake Allen ('21) said, "My favorite song was "I Can't Give You Anything But Love" because it's super fast-paced and a lot of fun to play. Also, it just sounds cool." The vocals were performed by the accomplished Sabrina Webster ('21). She said, "I really enjoyed performing my song because it was so quintessential and I loved putting my own spin on it."
The show ended with a ballad, "Fly Me to the Moon" by Bart Howard. With the stage drenched in dark blue and orange, Liam Ram ('20) took center stage and perfectly sang the Frank Sinatra version of the song. Natasha said, "I must say 'Fly Me to the Moon' is my favorite singer songs. Sinatra is one of my favorite artists, and the fact that we had the opportunity to play his rendition of the piece was an honor to me."
The audience was left wanting more. Sarah said, "I can't wait to see what the jazz band drums up next—pun intended."